With the global pandemic (finally!) on its way out, many people are finding their way back into their former routines—including getting back to their favorite gyms or spas. They're also prioritizing self-care more than ever before. For entrepreneurs, these trends mean it's a great time to explore the resurgent potential of health and fitness franchises.
Where do you begin, though? In this blog, we're going to discuss wellness spa franchises—what they are, what opportunities they present, and how to find the perfect franchise to invest in.
What Are the 5 Most Popular Spa Treatments?
The year-over-year increase in search traffic related to specific treatments serves as one of the best ways to identify the most popular spa treatments. With that measure in mind, a recent SpaSeekers study found that this year's most popular spa treatments include:
Light therapy facials, which use LED lighting to help rejuvenate the skin.
Sound baths, and other immersive spa experiences.
Crystal healing massages, which aim to realign the body's energy for healing purposes.
Yoni steam, an emerging treatment to ease the symptoms of menstruation.
Gold massage, a popular procedure meant to slow the effects of aging.
What Are the Different Types of Spa Franchises?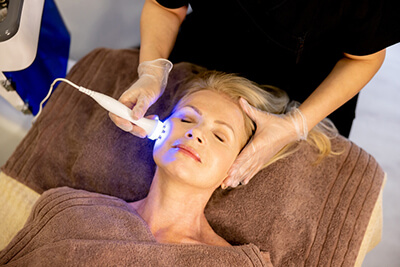 Even within health and fitness franchises, there are several different types of spa franchises to consider. A few of these include:
Is a Spa Franchise Profitable?
While a spa's potential profitability ultimately depends on a wide range of factors—including the spa type, for example—spas and other wellness franchises present plenty of opportunity. To make the most of those opportunities, though, it'sso important for aspiring franchisees to consider things like location and demand before making the investment.
That being said, the average spa profit margin is around 10-15%, according to American Spa. Globally, the expected market value for professional spa services in 2023 is projected to be worth nearly $115B, and to grow by a compound annual growth rate (CAGR) of 5.4% between 2023 and 2033. If that projection holds true, that would make the market worth nearly $200B by 2033's end.
How Can I Make My Spa Business Successful?
Making a spa business successful isn't too different from making any other type of business successful—but here are three tips that can lay the groundwork for success:
Complete Your Due Diligence. This includes researching the franchise, including what it offers its clientele, the support it provides its franchisees, its financial history and/or projections, and so on. The more you know, the better-equipped you will be to evaluate potential opportunities. That way, you can not only find the easiest roads to future success, but the best fit for your interests, lifestyle, and goals as well.
Consider Franchising. There are many advantages of franchising that are ideal for novice entrepreneurs. For example, since you don't have to come up with branding and marketing ideas from scratch, you benefit from an established brand identity. That makes it much easier to get new clients in the door when your spa franchise opens to the public.
Be Authentic. The old adage that "if you love what you do, you will never work a day in your life" holds true here—and the most successful spa owners tend to possess a keen interest in personal wellness. In other words, they're not opening a spa just for the profits. If you have a passion for health and wellness—and are driven to help clients meet their goals and feel their best—that's a great start. Let your passion shine through as you seek to create the perfect environment and ambience for your spa and the clients will notice.
At FranchiseOpportunities.com, the Perfect Spa Franchise Awaits
Ready to find the perfect spa franchise for sale in your area? It's easy to search at FranchiseOpportunities.com. There, you can browse spa franchises (as well as other health and fitness franchises). You can also sort and filter results by location (state) or investment level, and read more about specific franchises. Still unsure whether franchising is right for you? Check out our resources page, where you'll find franchising FAQs, guides to buying and operating a franchise, and so much more!