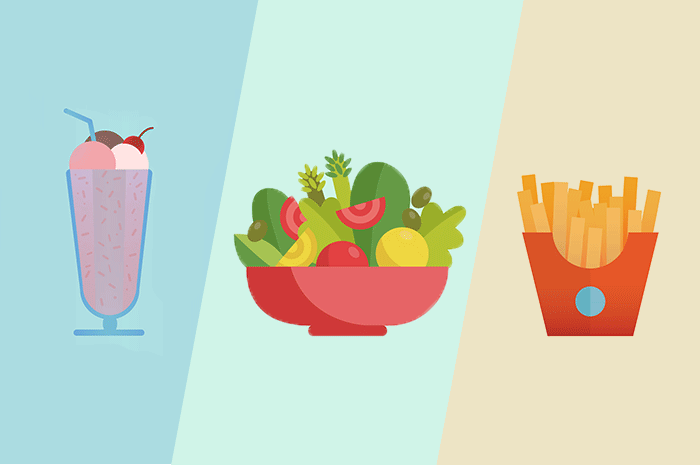 The start of a New Year is a natural time to start thinking about and planning for the year ahead. One of the most common things that tends to come up in those plans are resolutions involving healthier eating and living. In the spirit of resolutions, our team is turning over a new leaf towards healthy eating and, after some careful data analysis, decided that our fast food habits and choices are going to be one of the first changes we make. In the following charts, we've compiled information comparing the calories of menu items in popular fast food franchises.
When looking at the average number of calorie numbers per menu item, Arby's came in highest with an average of 515 calories. Subway had the lowest with an average number of calories of 313 per menu item.
While opting for a salad can feel like the healthy choice, that's not always the case. Salads can often be packed with unexpected calories. For example, Taco Bell's Fiesta Taco Salad packs a whopping 723 calories.
One of the fastest ways to fail on a new eating plan is to totally limit and cut out everything bad for you. Instead, we plan to build in little indulgences here and there and that includes french fries. While no french fries are low calorie, there are better options as you can see below.
The same goes for milkshakes. While none of these restaurants' milkshake options are technically a healthy choice, there is a little of calorie variance to consider when deciding where to splurge.
While it's important to build in those little splurges to help keep yourself from getting entirely off track, not every day can be a splurge day. Opting for a healthy side is an easy way to 'healthify' your meal when eating out. All of the fast food franchises we looked at have many healthier alternatives to french fries.
While evaluating these menus, we looked at the highest calorie menu item and the percentage of menu items over and under 500 calories. This helped us gain a better perspective on the overall healthiness of these fast food restaurants. As you can see, Subway leads the pack with the most lower calorie menu options.
One of our biggest takeaways from this data analysis is that it is possible to eat relatively healthy when you're in a time crunch and you're looking for a fast food solution. We plan to march into 2017 armed with this new knowledge, ready to make healthier eating decisions.