With the workforce rapidly shifting, you might be exploring career options that offer more freedom. The trend toward self-employment was already on the rise, but the pandemic pushed it to new heights. Given the current job insecurity, lowest job satisfaction levels in two decades, and highest inflation rates in 40 years, it's no wonder you're reassessing your career path.
However, self-employment can be a double-edged sword. While it offers the promise of autonomy and flexibility, it also brings unique challenges, such as financial risks and the potential for burnout.
Despite these challenges, you can easily minimize potential pitfalls and maximize your chances of success. With a strategic approach to transitioning from a traditional 9-to-5 job to self-employment, you'll ensure a smooth transition and gain the confidence to pursue your goals.
Start Saving Early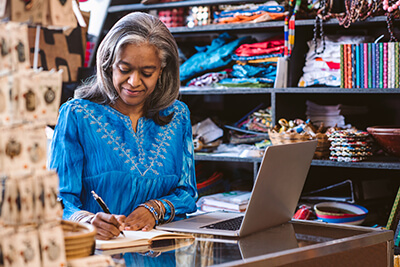 If you start saving money early, it can be a crucial step in ensuring a successful transition to self-employment. By building a financial cushion before leaving your current job, you minimize the financial risks associated with self-employment and provide yourself with a safety net during the initial stages of your new venture.
To begin saving, assess your current financial situation and create a realistic budget that takes into account your expected expenses during a transitional period. This budget should include a designated amount to be saved each month in preparation for self-employment. This gives you a better understanding of how much money you need before leaping into self-employment. Next, prioritize and allocate funds to an emergency saving account you can access in case of unexpected expenses or setbacks.
Additionally, consider reducing your discretionary spending and finding ways to cut costs. This might involve downsizing to a more affordable living space, eliminating unnecessary expenses, or even taking on a side gig to supplement income during your transition period. By saving diligently, you can create a financial safety net for support during the early stages of self-employment but also for peace of mind.
Plan Your Finances Carefully
Financial strain can significantly impact your overall health and well-being. Stress related to financial instability may lead to anxiety, depression, and even physical ailments. To minimize your financial risk and promote a healthy transition, carefully plan your finances and make informed decisions regarding your business ventures.
A well-crafted business plan is a key tool for financial planning. It outlines the expected costs, potential revenues, and financial goals associated with the new venture. If you calculate your future net worth based on the proposed business model, you can assess the feasibility of a self-employment opportunity.
Additionally, if you do some research into low-cost franchise opportunities and find the best franchise ROI, you'll gain valuable insights. This way, you'll find businesses with a history of success, meaning a more secure and profitable self-employment opportunity for you.
Prioritize Work-life Balance
Running your own business can be both rewarding and challenging, but without proper management of time and resources, it can easily lead to burnout. Burnout is a state of chronic physical and emotional exhaustion, often accompanied by feelings of cynicism, detachment, and a diminished sense of personal accomplishment. This condition can make you more susceptible to illness, affect your mental health, and cause a general decline in your overall well-being.
To support your well-being and maximize your chances of success, prioritize a healthy work-life balance while transitioning to self-employment. This means you'll need to set some boundaries between your work and personal life. Schedule time for rest and relaxation and do things that help you maintain a healthy mind and body. This way, you reduce the risk of burnout and ensure you have the energy and resilience you need to succeed in your journey.
Prepare for Healthcare Costs
Transitioning to self-employment can sometimes leave you without the insurance coverage you previously enjoyed through your employer, leaving you vulnerable to potentially high healthcare costs. Ensuring you have access to healthcare and managing healthcare expenses should be a top priority.
One solution is to obtain insurance through your new business by joining a group plan or purchasing individual coverage. Comparing different insurance providers and plans can help you find the most suitable and cost-effective option for your needs. You may also consider setting up a Health Savings Account (HSA) or Flexible Spending Account (FSA). These special accounts help you save money for healthcare expenses while giving you some tax advantages in the process.
Apart from getting insurance coverage, it's a good idea to set up an emergency fund specifically for unexpected healthcare expenses. This fund can be a financial safety net in case of any medical emergencies. That way, you'll be prepared for anything and have some peace of mind.
Seek Help From Friends or Family
Getting help and support from your friends and family is a great way to ease your workload and reduce the mental and physical stress of self-employment. Plus, when you involve your loved ones in different aspects of your business, you can delegate tasks and responsibilities to them, tapping into their diverse skills and perspectives.
For example:
Friends and family can help research potential business opportunities.
They can provide constructive feedback on the viability of a proposed business model.
They may be able to offer resources or connections that could benefit the business.
Your friends and family can also be valuable sources of emotional support while you're establishing a new business. Their encouragement and understanding can help you stay motivated and resilient, even when faced with setbacks or difficulties. Plus, sharing your journey with others provides a sense of camaraderie and makes the experience more enjoyable.
Invest in a Trustworthy Franchise
If you're looking to start a business and self-employment feels daunting, investing in a reliable franchise can bring many benefits, such as saving you a lot of time, energy, and stress. By becoming a franchisee, you can reduce your workload while still growing your business without sacrificing self-care. It's a win-win situation!
As you research potential franchises to purchase, consider which ones are the most successful and fastest growing in their industries. By studying the most popular franchises to buy and own, you can get a good grasp of what you're getting into and how much effort and capital is necessary for success. This will help you make an informed decision and set yourself up for growth.
By doing thorough research beforehand, you can take advantage of all the benefits that franchising offers. These include access to proven systems and processes, brand recognition, marketing support from experienced professionals, and assistance with locating financing options.
What To Consider Before Buying a Franchise
It will do you well to conduct thorough research before buying a franchise. While the process may be easier than starting your own business, there are still many matters to consider. A few key things to consider include:
The franchisor's track record, financial stability, and overall reputation.
The local market demand and competition to gauge the potential success of the franchise.
Demographics, consumer preferences, and existing competitors in the target area.
The Franchise Disclosure Document (FDD), which provides comprehensive information about the franchisor and the franchise system, including essential details about the franchisor's financial performance, legal history, and the rights and responsibilities of both parties.
You must also take the cost of investment into consideration. That includes the initial franchise fee, as well as ongoing expenses like royalty fees, marketing fees, and operational costs. As you're searching for franchises for sale, weigh the cost against the potential rewards to ensure your choice is a profitable investment.
Whether you decide to pursue a franchise or an independent business, self-employment is a big decision. However, with proper planning and sufficient resources in place, you can make your entrepreneurial dreams a reality with greater success and satisfaction. Remember, you have the power to take control of your career and create the future you want!