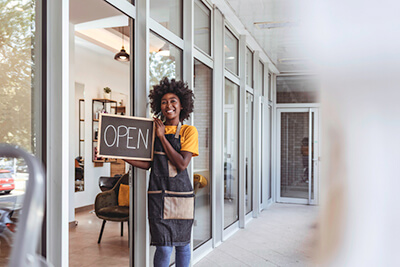 Opening your own franchise location offers some great benefits you probably already know about, like getting to live the small business owner lifestyle while getting a proven business strategy, support, and brand recognition. You may have even done searches for "franchise opportunities near me" and "what are the best franchises to own".
But doing your research is so important before you make a final decision on which franchise you want to open. At Franchise Opportunities, we want to share more information on what makes a franchise successful, where to look for the best options, and how to know if your top choice franchises are likely to be successful for you.
What Is the Most Successful Franchise in the US?
There are several different ways you can define the success of a franchise. It is important for you to consider what the most important thing for you to be successful is. Some common criteria for prospective franchisees include:
Franchises that can be opened quickly, to start generating profit fast
Franchises that are easy to run and do not require much hands-on time, allowing owners to work on other things as well
Franchises that are inexpensive to open, to generate income without a lot of investment
Franchises that generate the most profit over the long term, to optimize return if immediate profit isn't as important
Franchises in up and coming industries that are likely to be most profitable in the future
What Franchise Is the Most Profitable to Own?
Highest profit franchises are at the top of most people's lists when looking for franchises to open. Here are some of the most profitable franchises to get you started.
Up and coming franchises with fresh ideas and new perspectives are another great place to look for the most profitable franchises. Although these new kids on the block may not have the big numbers some of the long established franchises can show, they are poised and ready to take off and become some of the best money makers. Getting in on the ground floor means you'll have a wider choice of locations to choose from and more opportunities for growth into multiple locations if desired. Some great options include:
Which Franchise Is Best in 2022 and Beyond?
Franchise Opportunities is the best place to look for finding a franchise that will be successful for you. Our easy-to-use search allows you to look for franchises in whatever industry, investment level, or state you want. We also break down the top franchise options, giving you the 50 most popular franchises to choose from.
One of the most commonly asked questions we get is "What are the best franchises to own for beginners?" So we also provide resources for those of you who want to be successful as you get started on your franchisee journey. These include:
Is Franchising Right for Me: A Self Survey to Help You Find Out – Before you decide which franchise will be most successful for you, it's important to find out if becoming a franchisee is the right fit. Opening a franchise location gives you the opportunity to start a profitable business with proven business models and parent company support — but it's not a good option for everyone. Read more here before you get started.
How To Buy a Franchise: The Ultimate Guide – Once you know that running a successful franchise is a good path for you, doing your research and following best practices to select and buy your franchise matters. Read this guide to make sure you don't mess up the big stuff before you start.
Understanding the Franchise Agreement – The Franchise Agreement document that you'll get from a franchise before you agree to buy can be confusing and intimidating. This article breaks down what you'll get and what it all means so you go in knowing what to expect.
Visit our website and browse all the franchises available to find the one that will be most successful for you!