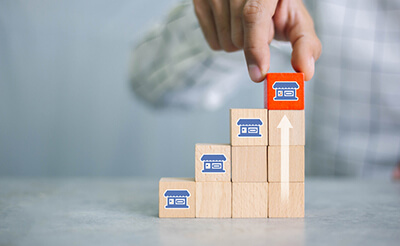 If you're considering starting a franchise, it makes sense to invest in the best. It's also vital that you take time to explore all of your options—choosing the right franchise requires careful deliberation and research. To give you better insight into the current franchising market, Franchise Opportunities compiled a list of the best franchises to own. The following sections will cover some of the most successful big-name franchises, as well as profitable, lesser-known options.
Three Biggest Franchise Opportunities for 2023
Taco Bell
Food-based operations remain the most popular franchising options. Out of all the fast-food franchises, Taco Bell is going strong in 2023. As one of the most recognizable franchises in the U.S., Taco Bell has much to offer regarding brand recognition. Additionally, Taco Bell is ambitiously expanding into other markets outside of the U.S., which indicates that the brand is positioned for future success. Regarding startup costs, the initial investment required to open a Taco Bell franchise ranges from $576K to $3.4M.
Hampton Inn & Suites
Although the hospitality industry took a hit during the COVID-19 pandemic, business is booming again. With over 2,200 locations in the U.S. and several international operations, Hampton Inn is one of the most popular hospitality franchises. However, entering the hospitality arena is a costly affair. The initial investment for opening a Hampton Inn franchise ranges from $12.3M to $22.8M. But, if you have the funds on hand, and are passionate or experienced in hospitality, investing in this franchise is unlikely to disappoint.
Kumon Math Tutoring Services
Sadly, math and reading scores fell in nearly every U.S. state in 2022. Because students desperately need to get back on track, tutoring franchises like Kumon have become extremely popular. Kumon Math and Reading Centers provide individualized tutoring for each student and give franchisees an opportunity to give back to their communities. Out of all the popular franchises, Kumon requires a more moderate initial investment compared to other options. The initial investment for a Kumon franchise ranges from $67K to $146K.
Is Popularity Everything in Franchising?
Although each of these franchises is successful, it's important to remember the best franchises to invest in are not always the most popular. The main things to examine when investing in a franchise are profitability, reliability, and consistency. Additionally, as you weigh your options, consider your passions and experience. Just because a franchise is well-known does not mean it's the right path for you, and that's okay. There are plenty of new and innovative franchises to explore!
What Is a Good Profit Margin for a Franchise?
Regarding profit margins, the average gross income for franchise owners is around $80,000. However, you should take general statistics like this with a grain of salt—accurately evaluating the profitability of a franchise is a nuanced process. The best way to assess the profitability of a specific franchise is to carefully review the franchise disclosure (FDD) document. The FDD provides all information needed to determine if a franchise opportunity will be a worthwhile investment. You can find information on a franchise's profitability in Item 19 of the FDD. As you evaluate your options, remember that a consistently stable profit margin is a strong indicator of a franchise's potential success.
Explore Low-Cost Franchises With High Profit Margins
Buying into a big-name franchise isn't in the cards if you have a smaller budget. However, that doesn't mean franchising is out of reach. There are plenty of more affordable franchise opportunities available. Here are some of our favorites.
American Business Systems
As a leader in medical billing, American Business Systems offers its franchisees a stable and profitable career. Outsourced medical billing solutions are the answer to many challenges in the healthcare industry, including:
Staffing shortages
High equipment costs
Stilted cash flow
According to Grandview Research, the outsourced medical billing industry is expected to expand at a compound annual growth rate (CAGR) of 12.0% from 2022 to 2030.
Learn more about this opportunity here.
Restaurant Heroes
Restaurant owners are under a lot of pressure. Many mom-and-pop operations struggle to keep up with the times and stay ahead of their tech-savvy competitors. The Restaurant Heroes franchise aims to relieve some of that pressure by helping restaurateurs leverage technology. As a Restaurant Hero franchisee, you will act as a certified advisor to restaurants and help them overcome various challenges using the "Restaurant Success Playbook." If you have a passion for technology and helping small businesses, this franchise might be the right fit for you. Learn more about this opportunity here.
Looking For More?
If none of these franchises struck your fancy, don't give up just yet! Our listings are filled with affordable opportunities for you to explore. We even have a selection of low-cost franchises for under 10,000. Discover more options here.
Find Some of the Best Franchises To Own
We hope this blog gives you some ideas! Of course, this list of franchises is not the end-all-be-all. If you want to find more franchises for sale, consider browsing our list of the 50 best franchises to buy and own in 2023. We carefully evaluated each opportunity and compiled this list based on the most requested opportunities in the Franchise Opportunities Network in the 2023 calendar. See them all here and start your franchise journey today!