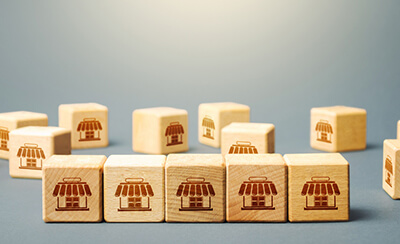 Over the course of 2022, it is estimated that nearly 800,000 franchises were in operation across the United States. Think that number's big? Before you assume franchising is simply a modern novelty, it might surprise you to learn that this number has actually held relatively steady over at least the past 15 years—over which span this number has only dipped below 700,000 once (in 2013).
Now this may raise some questions in your mind, like:
We can easily answer the first question right out of the gate. Yes, there are countless franchise opportunities in your area, across a number of different industries and with different investment requirements. You can browse the most popular franchises on FranchiseOpportunities.com right now.
As for the second question, several key factors make certain franchises easier to own than others. The easiest franchises to own are generally those that:
Are low-cost
Allow for flexible working hours and/or environments
Don't require excessive effort to get them up and running
Don't require extensive staffing or training
Are in an industry you're familiar with or interested in learning
Operate in an industry that is in demand
These, of course, are just general parameters. Fortunately, one of the benefits of franchising that doesn't get nearly as much attention as the all-important notion of "being your own boss" is that you don't have to build and strategize an entire business from thin air.
As you work toward signing a franchise agreement, you can expect to benefit from an established brand identity and customer base, as well as marketing strategies, training materials, and more. Especially when you buy into a couple locations of a single franchise, you can apply the same business acumen and strategies to each, meaning you don't have to reinvent the wheel each time!
What Is Multi-Unit Franchising?
Some would-be franchisees are interested in operating multiple franchise locations simultaneously—also known as multi-unit franchising. The benefits of multi-unit franchising (over a single-unit business example) include:
Shared resources. While there may be some variation from one franchise location to the next, you won't need to reinvent the wheel each time.
Reduced costs. You can spread costs out over locations, as needed, to help each individual franchise thrive within its market.
Increased success. With multiple franchise locations in your portfolio, you increase your chances of success—while building valuable experience (and increasing your business acumen) along the way.
With multi-unit franchising, you can apply the same basic resources, direction, and lesson(s) learned to a second or even third location. For these reasons and more, multi-unit franchising offers strategic advantages worth considering.
That's not to say there aren't potential pitfalls or disadvantages, though. Multi-unit franchising does represent a bigger financial and time commitment, and it's not entirely without risk of failure. In order to succeed, you'll need strong time management skills, patience, and a willingness to experiment and learn.
What Is a Multi-Unit Franchise, and What Are Multi-Unit Franchise Examples?
A multi-unit franchise is an arrangement where one franchisee invests in multiple units (or locations) of a single franchise brand. Well-known multi-unit franchise examples are all around us, and it's an especially popular option within industries like:
Is Owning Multiple Franchises Profitable?
Yes, it certainly can be! When managed well, multiple unit ownership can help drive profitability through:
Generating increased income/revenue
Diversifying your management/investment portfolio
Mitigating risk across multiple investments and locations
How Do I Get Started With Multi-Unit Franchising?
If you're looking for how to become a multi unit franchise owner, there are three steps:
Evaluate Your Opportunities
Start by considering the industries you are the most interested in, if you haven't already decided. At FranchiseOpportunities.com, you can browse available franchises across dozens of different industries.
In addition to browsing available opportunities to find something you're passionate about (a step you do not want to gloss over), you'll also need to determine which of the following paths is right for you:
Many new franchisees opt to start with single-unit franchising—launching a single franchise location, and then, depending on how that goes, exploring opportunities to expand with one or more additional locations.
Others, especially those with solid business acumen and plenty of experience, will set their sights on multi-unit franchising from the get-go.
Review and Sign a Franchise Agreement
Whether you're opening one location or multiple, you'll need to sign a franchise agreement. A typical, legally-binding franchise agreement contains all the nitty-gritty details of franchising. It will outline things like:
Location and territory designations and exclusivity (if applicable)
Day-to-day operational details
Training and ongoing support offerings and expectations
Franchise fees and investment levels
Royalties and ongoing fees
Trademarking, patents, and signage
Advertising and marketing guidance and strategies
Renewal rights and termination/cancellation policies
Duration of the franchise agreement's terms and conditions
Exit strategies, such as franchise resale policies
In addition to a multi-unit franchise agreement, you'll likely also need to complete an area development franchise agreement. This documents, among other things, the number of locations you intend to open, as well as their specific addresses and opening dates.
Hone Your Management Mindset
While it's a requirement whether you're opening one or multiple franchise locations, one of the most important keys to success for multi-unit franchisees is to develop an appropriate management mindset and style. As it relates to multi-unit franchising, this includes a few key components, such as:
Passion. Profits matter, but so does passion. If you're going to succeed, especially with the added challenge of managing multiple franchises at once, you should be focusing on franchises within industries you are genuinely interested in.
Emotional Intelligence (EQ). Originally coined in the 1990s and entering the mainstream shortly after (thanks to the work of Daniel Goleman and others), EQ is generally defined as "the ability to understand and manage your own emotions, as well as recognize and influence the emotions of those around you." Key components of EQ include:

Self-awareness
Self-regulation
Motivation
Empathy
Social skills

Effective Communication. Whether you'll be running a single business location with a mere handful of employees or multiple locations of a well-known franchise, you're going to have to be able to communicate clearly and persuasively. Communication underpins everything that makes a business work, from delivering basic employee instruction to motivating your staff to deliver exceptional customer experiences.
Opportunities Abound…
…at FranchiseOpportunities.com. No matter where you're at in your journey as a single- or multi-unit franchisee, you can start your journey with us. Explore our top franchising opportunities or browse by industry, investment level, or state. Or, visit our Resources page for more information about finding and financing a franchise, understanding franchise fees, legal guidance and resources, and more.