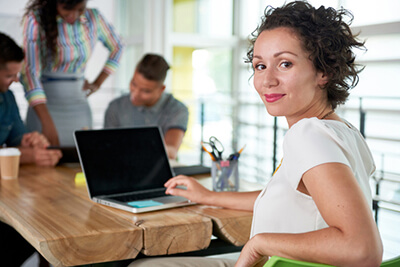 The first step to starting a small franchise is finding the right one that speaks to you. Are you searching for "small franchise opportunities near me" in hopes of finding a quaint brick-and-mortar store to run? Do you want to keep operations small and work from home? Or does "small" mean "low starting costs" to you, and you're looking for cheap franchises under $5,000?
You will encounter thousands of small franchises for sale in your research, and it will likely feel overwhelming to choose one from the crowd. Keep reading for a few tips for starting a franchise business that will help you in the selection process.
How Much Cash Do You Need to Start a Franchise?
Some franchises have start-up costs in the low thousands, while big names can cost millions to buy into. The cash needed is determined by the market, the location, and the franchise model. If you're considering a full-service restaurant franchise, for example, you'll face high buy-in costs. Mobile and home-based franchises, on the other hand, tend to be the least expensive.
Additionally, many franchises have other financial prerequisites, like a net-worth minimum and a franchise fee. Here are a few examples so you can see how these differ across the board, from highest to lowest investment:
Chicken In A Barrel BBQ – This family-friendly BBQ restaurant franchise has a minimum cash requirement of $250,000, a net-worth requirement of $750,000, and an anticipated total investment of $100,000-$750,000.
Casey's Cleaning – You can start a cleaning company franchise for a minimum cash requirement of $20,000, a franchise fee of $30,000, and an anticipated total investment of $45,000-$66,000.
Tutoring Works – Own your own tutoring business for a minimum cash requirement of $20,000 and an anticipated total investment of $17,900-$30,000.
As you can see, the financial requirements to start a franchise vary widely. If you don't have the cash on hand to get started, that's okay! This dream can still become a reality for you. We'll show you how in the next section.
How to Start a Franchise
Consider these steps to make the franchise buying process run smoothly.
Do Your Research – As you explore franchises that interest you, you'll need to balance your interests, industry knowledge, costs, the local market, and the current state of any franchises that catch your eye. A website like FranchiseOpportunities.com is a great place to start—you can search franchises by industry, investment level, and location.
Prepare a Business Plan – Even though most of the groundwork for a franchise will be laid out for you by a franchisor, you'll still have to make some decisions on various business operations. These should all go into your business plan, which will also help you secure funding. Elements of a business plan should generally include a description of the franchise, a comprehensive market analysis, financial plans, marketing plans, management and staff structure, and an appendix to include any supporting documentation.
Get Funding – Lack of cash doesn't mean you can't become a franchise owner. Numerous funding options are available to franchisees, like U.S. Small Business Administration (SBA) loans, traditional bank and credit union loans, and even financing directly from the franchisor. Some people also reach out to friends and family members for personal loans, and others dip into their retirement savings to fund a franchise.
Establish a Corporation or LLC – Starting a franchise as an official corporation or limited liability company (LLC) has various benefits. It protects your personal assets in the face of business liabilities, and you may qualify for certain tax breaks you wouldn't be eligible for as a sole proprietor. Speak to a knowledgeable business attorney about the best way to approach this decision.
Study and Sign the Franchise Agreement – This is the binding contract between you and the franchisor. It gives you permission to use the franchise brand, sets out territory rights, details the franchise fee and costs, and establishes the duties and obligations of both parties, among other items. Hiring an attorney to review this document is wise, as they will ensure you understand the agreement fully and that your legal rights as a franchisee are protected.
These are only the basic steps to get started. After all this, the true work begins. You'll face other exciting tasks, like hiring staff, building a location, purchasing equipment, attending franchisor training, and much more.
Ready to get started? Click here to check out all the franchise opportunities that await!