Currently, health and fitness franchises are some of the most popular franchise businesses out there. According to a recent report from IBIS World, these wellness franchises reached $6 billion in revenue in 2022 and are projected to become even more profitable throughout 2023.
But what about boutique fitness franchises specifically? Are they as successful as the larger chains? In short, yes! Opening a boutique fitness studio can be a very lucrative business venture—if you have the drive and skills to make it happen. Just to show you how popular these franchises are, a recent report found that 72% of gym-goers increased their spending on boutique fitness by 25% or more in the past two years.
If you're looking to break into the fitness world, read on to discover what you have to look forward to.
What Is the Future of Boutique Fitness?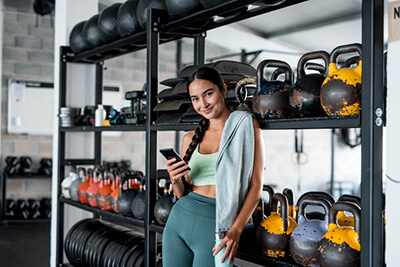 Although it is impossible to predict the market with complete accuracy, all reports point toward continued success for the boutique gyms. According to Zippia, 42% of the 64.19 million active gym memberships in the U.S. are for boutique fitness studios. And even though these franchises experienced some COVID-19 related losses, Business Wire stated that "millennials' growing knowledge of health, body image, and rising living standards gives market growth potential."
Similarly, Medium reported that 45% of millennials who exercise do so in fitness classes typically offered by boutique franchises (such as yoga, Pilates, or dance). In contrast, 27% of people aged 55 or older are interested in fitness courses.
As for boutique fitness trends, some of the most popular boutique fitness experiences are:
Barre
Kickboxing
Cycling
Dancing
High interval intensity training (HIIT) workouts
Pilates
Rock climbing
Yoga
Boxing
Spin studios
Are Boutique Fitness Studios Profitable?
The boutique fitness industry growth and success correlates with a larger economic trend where people are more interested in investing their money into experiences than physical items. Currently, boutique fitness market size is expected to grow by 17% between 2023 and 2025. Boutique gyms offer community, entertainment, and motivation for people seeking self-improvement.
Another upside to purchasing a boutique gym franchise is the affordable and plentiful retail space. In an interesting report released by The New York Times, boutique gyms might end up saving classic brick and mortar malls. As the article states, "Taking a group fitness class, it turns out, is one of the few things you can't order from Amazon."
Find the Hottest Fitness Franchises with Franchise Opportunities!
If you're ready to jump on the fitness franchise train, here are some hot options to consider:
CycleBar® Premium Indoor Cycling: This brand offers high-intensity but low-impact workouts for people of all athletic skill levels. CycleBar has a lot to offer potential franchise owners. Here are just a few of the highlights:

A strong national presence and a recognizable brand image
Opportunity to pick the territory of your choosing
Low-cost entry, recurring revenue model, and strong EBITDA margins
Scalable business model to leverage development costs and vendor relationships
Comprehensive and ongoing sales training
Assistance with hiring and developing the most qualified CycleStars
Rumble Boxing: Entirely unique and a whole lot of fun, Rumble Boxing is a celebrity-backed boxing-inspired fitness brand with a large and devoted following. Here's what they bring to the table, or should we say…the ring?

Extensive market potential
Training for lease negotiation, recruitment, and sales, and marketing
Personalized support to draw in leads and keep members satisfied
YogaSix: If you're looking to bring more peace and empowerment into people's lives, YogaSix might be the right opportunity for you. Besides being a nationally recognized brand, YogaSix provides its franchisees with extensive benefits that include:

Support for the entire buildout process of your location
Sales and marketing training and guidance
Scalable model designed to help you expand your business
Decades of experience in the yoga and fitness industry
Ultimately, the demand, opportunity, and retail space is all there for the taking! See even more fitness franchises by exploring franchiseopportunities.com.