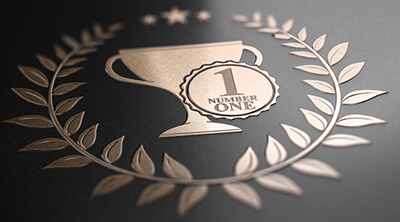 The number one franchise to own depends on who you ask. McDonald's and Dunkin' Donuts are frequently named as some of the most profitable franchises in the food industry. Home healthcare companies are also becoming increasingly popular. And in light of the recent pandemic, others may say franchises with work-from-home options are the number one franchises to own.
As you consider all the "number one" franchises out there, ask yourself what you want your life to look like as a franchise owner. When you're searching the web for "franchise opportunities near me," which franchises pique your interest? Many lists of the up and coming franchises contain food franchises—does that appeal to you? Are you more concerned with high profit margins? Freedom from day-to-day operations? Or something else? To help you figure out which franchise is best for you, let's take a look at some of the top franchises from a couple different angles.
What Franchise Is the Most Profitable to Own?
This is probably the most important question to franchise owners—how much money am I actually going to make? While the answer to that question will ultimately depend on the effort you put into the franchise, here are some franchises that are well-known for turning a high profit:
McDonald's – You know McDonald's—who doesn't? Those golden arches are recognizable around the world, with locations in over 100 countries. Although McDonald's has a high profit margin, the buy-in costs are steep, and you should expect to pay at least $1 million to open your first restaurant.
The UPS Store – Shipping, printing, shredding, faxing, passport photos, personal and business mailboxes, notary services—what doesn't The UPS Store do? The minimum cash required is a bit more manageable than food franchises, coming in at around $60,000. Franchisees for The UPS Store report a huge sense of satisfaction from helping other business owners and individuals in their community with their various services.
Anytime Fitness – The number of people engaging in exercise has continued to rise over the past decade. You can serve this health conscious population by opening your own Anytime Fitness, a popular gym franchise with locations on all seven continents (yes, even Antarctica, via a cruise ship based location). $40,000 is around what you'll need to get started with this ambitious franchise.
Want to browse other profitable franchises? Give this Top 25 Franchises list a look.
Which Franchise Is Best With Low Investment?
If you're curious which franchise is cheapest to own, check out the ones on this next list:
Speaking Roses – This franchise offers a truly innovative product. They have created and patented the ability to print photos, logos, signatures, and more on both silk and live fresh flowers. For $8,995, you can print and sell your own Speaking Roses—no storefront required.
Love, Peace & Haze – The legal marijuana market is growing quickly, with an above average, projected compound annual growth rate of 25.5% from 2022 to 2030. Love, Peace & Haze is an inexpensive way to get in on this market, which typically has high start-up costs. You can start for as little as $250 with their fractional ownership model.
Dream Vacations – Dream Vacations is the largest seller of cruise vacations in the U.S. You'll only need $9,800 to start this franchise, making it an appealing option for those short on start-up funds. Your profits come from commissions tied to the bookings you make, so more bookings means more revenue.
What Is the Best Food Franchise to Open?
It's hard to go wrong with a food franchise—you can always count on people being hungry! You're likely familiar with industry giants like Dunkin' Donuts, Taco Bell, or Burger King, but these popular franchises usually have high investment costs. If you're looking for a food franchise with buy-in that's a bit more manageable, here are a few unsung heroes making waves in the market:
MacQue's BBQ – MacQue's has been perfecting their barbecue since 1986. Their restaurants and catering services boast a mouth-watering menu of quality-smoked meats, scratch-made side orders, and a fabulous variety of barbeque sauces. You'll need $100,000 to get started, with a net worth of at least $300,000.
Daylight Donuts – In a survey of 1,000 Americans, 96% responded that they like donuts—maybe it's time to get into the donut market. Daylight Donuts makes it easy to sell these delectable treats out of your very own storefront, with a minimum cash requirement of $100,000.
Healthier4U Vending – Want a food franchise, but not so sure about running a restaurant or store? Consider a vending machine franchise instead. Healthier4U Vending, for example, offers healthy options to balance out the prevalence of sugary drinks and salty snacks in the vending world. Total investment will vary from $53,000 to $360,000.
Whether you're looking for the number one franchise opportunities in Texas, Washington, Colorado, or elsewhere, our directory at Franchise Opportunities has plenty of franchises to browse. Start searching by industry, investment level, location, and more today!