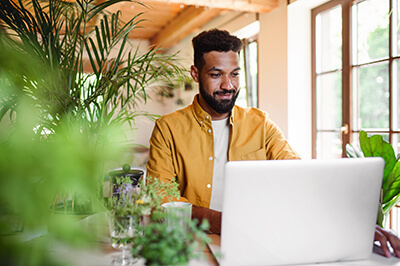 Does starting a franchise mean you'll have to quit your day job? Not necessarily. The advantage of franchise ownership is that once you learn how to start a franchise, you should have little to no trouble getting off the ground. That leads to an obvious question: How much do franchise owners make a year?
While the amount varies by industry and company, most franchisees earn around $80,000. However, many factors influence how easily you can use a franchise to earn a sustainable living.
How Do I Earn Money from a Franchise?
Every franchisee earns money directly from the profits generated by the franchise itself. This means that after subtracting your debts and overhead costs from the gross profits, you can draw a salary from the residual money.
This means that you'll earn money when your franchise earns money. But that also means that your overhead costs will impact your net profits. You'll need to learn how to start a franchise that balances these overhead costs with high profits from sales and services.
What Costs Impact My Franchise Earnings Potential?
Overhead costs will always impact the salary of a franchisee. What are these costs? They can vary by company and industry, but common costs include:
The franchise fee
Monthly franchise royalties
Commercial real estate
Business insurance
Payroll
Supplies, inventory, and equipment
Taxes
While some of these costs are a one-time expense (e.g., the initial franchise fee), franchisees will still be responsible for repaying any loans they took to get their business started.
But don't forget that these costs are often to your benefit. The fees you pay the franchisor come with the advantage of powerful industry support. Your franchisor can often provide you with the training to learn how to start a franchise and find more success than if you'd started a business on your own.
How Much Do Franchise Owners Make a Year?
With these factors in mind, how much do franchise owners make a year? The nationwide average is $80,000, though it varies considerably by company and industry. The most successful franchisees earn even more by multiplying their efforts and opening multiple franchise locations in their area.
Other franchisees can earn a respectable living by converting their home office into a franchise location. That is, you can operate a business such as a travel planning agency or on-site photography service right out of your home, which minimizes your overhead costs and streamlines your startup process.
How Long Will It Take to Earn a Living from a Franchise?
One of the great things about franchises is that they offer strong brand recognition. Customers will immediately connect to the franchisor's brand and immediately know what to expect from your menu, services, and overall customer experience.
In other words, instead of having to wait for business to ramp up, you'll have a built-in customer base from day one. That means you'll have no latency period before you can expect to draw a meaningful salary.
How to Evaluate the Profitability of a Franchise
The earnings potential of a franchise can be hard to predict on your own. There are several ways you might go about evaluating a franchise before signing on.
Read the Franchise Disclosure Document
Franchisors are required to file a franchise disclosure document or FDD. The FDD will provide you with the company history, records of litigation, and most importantly, their financial performance. This won't tell you what salary to expect, at least not directly, but it can give you an idea of how successful the company has been in the past.
Ask the Franchisor
Sometimes the direct approach works best. During your initial interview, simply ask, "How much do franchise owners make a year?" The franchisor may be able to offer concrete figures regarding the earnings potential of other franchises in your area or similar operating territories.
Talk to Other Franchisees
Talking to other franchisees may give you a fuller picture of the earnings potential of a given company. While you might not inquire directly about their salary, you can determine whether other franchise owners are earning a living. If any franchisees are eager to leave the company, this may indicate that they're not earning enough.
Start Your Franchise Research Today
The best way to research a franchise is to find the one nearest you. At Franchise Opportunities, we help you do just that. Find franchises in your area using our search tool, and start your journey as the owner of your very own business.