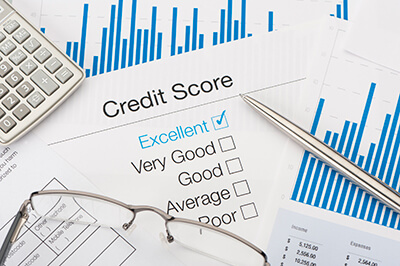 A high credit score can help, but thankfully, you don't need stellar credit to make it as a franchise owner. Do you need good credit to buy a franchise? This guide will help you learn how your credit score influences your ability to buy a franchise and covers the best franchises to own if your credit isn't perfect.
Credit Scores Explained
Your credit score tells others about your ability to repay loans and other debts. The higher your score, the more reliable you're considered to be, which may help you qualify for loans and other financial opportunities.
What exactly is "good" credit? The FICO scoring system ranges from 300 to 850. Your personal credit score comes from one of the three major credit bureaus: Experian, Equifax, and TransUnion. Here's how your scores break down:
800 or Higher: Excellent
740 to 799: Very good
670 to 739: Good
580 to 669: Fair
Below 580: Poor
It's a good idea to keep an eye on these scores even if you're not planning to make a major investment. Each of the three credit bureaus allows you to check your credit once a year with no charge, and doing so won't hurt your credit. In fact, finding and addressing errors or problems can boost your credit.
When You Need Good Credit to Buy a Franchise
In some cases, you will need good to excellent credit to buy a franchise. These circumstances can include the following:
The Franchisor Has a Low Acceptance Rate
Some of the best franchises to own can also be the hardest to get into. Chick-fil-A, for example, has been said to be harder to get into than America's elite colleges. Having excellent credit demonstrates your financial trustworthiness, which can make it easier to find acceptance at these top-performing franchises.
You Need an SBA Loan
To buy a franchise, you might need a business loan. Loans backed by the U.S. Small Business Administration (SBA) are widely sought after for their low interest rates and favorable loan terms.
However, the eligibility requirements can be notoriously strict. While the SBA has no minimum credit requirements, you'll likely need a score of around 720 or better to qualify for a loan.
You Need the Best Loan Terms
Remember, your credit score doesn't just determine whether you can land a business loan; it can also determine the terms of your loan. A high credit score will help you qualify for lower interest rates and a more favorable loan term.
Options When You Have Low Credit
What if your credit score is on the low side? Low credit doesn't necessarily disqualify you from franchise ownership. You have financing opportunities that include the following:
SBA Microloans
Some of the best franchises to own aren't that expensive. SBA microloans can cover amounts up to $50,000. These have lower eligibility requirements than traditional loan programs. And if you agree to repay the loan within a year, you can qualify for low interest rates as well.
Business Line of Credit
A business line of credit works just like your personal credit card. You can spend as much as you need, up to your total "credit limit." This credit limit will almost always be lower than a traditional loan, but the great thing is you can pay off your balance and keep using your line of credit as often as you need.
Best Franchises for Those with Low Credit
Here are some of the best franchises to own for investments under $50,000. You can invest in these companies with an SBA microloan:
eCommerce: Shopify Automation
Vending Machines: HealthyYOU Vending
Home Improvement: Koala Insulation
Finance: Blue Coast Savings Consultants
Education: STEM for Kids
These are some of the best franchises to own when your credit score is on the lower, and they could be started without needing a major loan.
Ways to Improve Your Credit Score
How can you improve your credit score? It might take a little time, but the best ways to improve your personal credit score are to do the following:
Review your credit report and address any errors
Pay your bills on time
Utilize less than 30% of your credit limit
You can't boost your credit score from poor to excellent overnight, but consistently working to improve your score can increase your chances of landing a top-performing franchise.
Search for Your Next Big Opportunity
Franchise Opportunities allows you to filter results by industry and by investment level. If you're thinking about becoming your own boss, search for opportunities in your area or use the tool to connect with options that fit your budget.