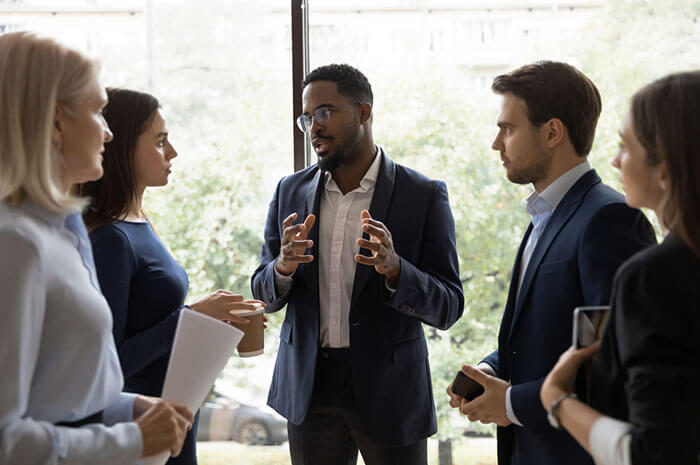 A team who's excited about work is a team that runs a tighter ship all around. From their motivation that allows them to be on time and complete jobs thoroughly, to how excited they are to greet customers – you want employees who are enthusiastic about their gig at your franchise location.
Find ways to help keep your team members more motivated from day one. This is a great way to advance your business, and to better train employees right from the get-go. Take a look at these proven tips and look at how you can incorporate them into your own brand.
Start at the Top
When looking to motivate your own franchise employees, it's important to look at your own attitude. How do you act toward tasks? Are you creating a positive environment in which others will want to work? Do you jump to tasks without delay? Create employees that you want to have working for you by setting forth a good example of how you want others to work in your franchise location.
You should also let your workers know when they are doing a good job. Tell them good job, how much you appreciate them, and more. Don't be afraid to hand out a little constructive criticism, either. But when sprinkled with compliments, you can gain trust and create an environment in which others will like to work.
Offer Advancement Opportunities
Do your workers enjoy their time at your business? Allow them to prove themselves with opportunities for growth. That can mean training sessions, paid courses, raises, and/or promotions. When there's a ladder to climb, workers will be far more willing to push toward higher goals. However, if they feel stagnant, they are unlikely to push their horizons and learn new things.
You can even ask employees what methods of growth most appeal to them and their professional sights. That way you can tailor our growth opportunity to their wants and needs.
If you are worried about the financial constraints of moving forward as a franchise owner, there are creative ways you can find growth that won't come out of your pocket. Reward customers with titles, coupons, or even a discount on items at your business. You can also create a commission structure that allows them to earn more when they bring in more business. (And because these funds are coming out of your increase in profits, it won't act like an additional fee.) Besides, any method you choose can also act as a tax write off, so there's an added incentive to help make your employees happy.
Learn Your Franchise Employees' Quirks
Another way to work better with your franchise employees is to find what makes them tick. Everyone has their own preferences, and the more you get to know your own workers, the better you can tailor to their needs. Ask them what's motivating at work, how they document success, and more. Over time this will also happen naturally, allowing you to better understand who helps make your business possible.
In turn, they will also learn how to more efficiently work for you. It's a process that helps the business work more efficiently, and therefore, with fewer kinks along the way.
Obviously, the longer an employee works for you, the better you will know them. This is one of the many reasons it's in your business' best interest to keep workers for longer bouts of time. Workers who have been with you longer know more, they're better trained, and they can do more in less time. This saves money, advances the brand, and eliminates fees in which you have to find and train new workers.
Key Takeaways for Motivating Your Workers
Hiring franchise owners is an important aspect of business ownership – they're the glue that helps hold the entire brand together. They're the face of your business, the moving cogs behind-the-scenes, and they help make your business possible. Especially on days when you aren't there, or are busy focusing on other things.
How well you motivate your franchise employees pays dividends directly back to your franchise location. And it will increase your profits every step of the way. Look to these key motivational factors as a new franchise owner, now and in years to come.