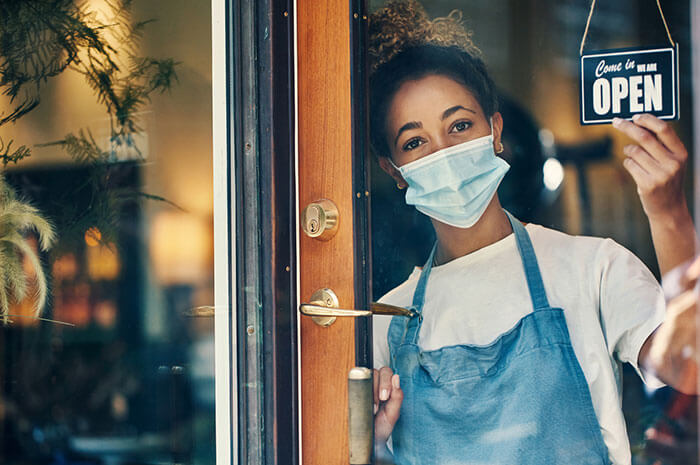 Over a year into the pandemic, the franchising world has undergone many changes due to COVID-19. From changing safety standards, to making options like drive up and delivery more available to consumers, all industries have seen an overhaul in how they run their daily operations. However, for incoming franchisees, you might be wondering how the pandemic has affected business, and what safeguards you need to have in place before opening your franchise location.
Take a look at these key factors and how the markets are adjusting to remain a well-prepared business owner, no matter what hardships the world might be going through at the time.
How to Move Forward with Your Franchise During a Pandemic
First things first, if you are working on setting up your franchise or are considering starting a business, don't panic. Yes things are different, but not so different that you can't be successful. If anything the pandemic has taught business owners how to adapt. How to better use their resources, how to stay on your toes, and how to change with the times. Nothing is set in stone, and COVID-19 has taught franchise owners to stay ahead of the game. With swift marketing decisions and changes that helped the brand incorporate key changes (legal and logistical), brands actually came out ahead.
The biggest take-away: you can continue to move forward with your franchise location. There's no need to pause your dreams or take a step back from all you've been working toward. Instead, you just need to sidestep some norms from the past, and ensure you're following all COVID guidelines.
Leaning on High-Level Franchising Expertise
Luckily, your franchise brand will have your back here. They will be doing their due diligence – and informing you – of what needs to be done and when. However, it's important to continue on with your own research as well. Ultimately, your franchising brand won't be on the ground in your area, which means it's important to stay in touch about local rules and ordinances, as well as what your market wants and expects of its local brands.
While armed with all of this information, you can get started in opening a location that is well equipped and informed how to operate successfully, even with changing factors such as COVID-19. Besides, finding profitability during hard times can mean easier and larger projects in months – or years – to come, once things level out and there are fewer factors you have to fight against on a daily basis.
What Franchisees Learned From the Pandemic
The pandemic was also a steep lesson in what types of businesses are considered essential, who consumers need in a time of panic, and what industries are more recreational. The good news is that now you are armed with this information at the start of your franchising journey. Use it in your favor – see what consumers are responding to. Who's making the most waves in business, in a good way? What brands are customers kicking to the curb, and why? And how can you create the best of both world where your brand is thriving and better serving its market base?
That sweet spot exists for your franchise, even during the pandemic, you just have to do a little research in order to find it.
Why it's a Great Time to Grow Your Franchise Business
Starting a franchise during a pandemic might sound scary, but it's actually one of the more controlled markets in which you can open your business. Yes there are certain factors we can't predict, but there are also very clear guidelines to follow. Implement masks, social distancing, brand signage that enforces state or city laws, and more. By incorporating all of these into your franchise location, you can show your customers you are keeping their safety in mind while still creating a product or business of need.
Don't fret about the possibility of starting a franchise business in the status quo. Instead, use it as a learning opportunity to grow and hone in on your brand's best ways to follow market trends. With that means adapting to social norms, then finding a way to offer your customers a service in a way that's effective and safe.
It's business as usual, just with more masks and delivery options. It's also a great time to find business growth and to help your franchise dream become a reality. Simply take guidelines to heart and allow them to frame your business and its continued path.