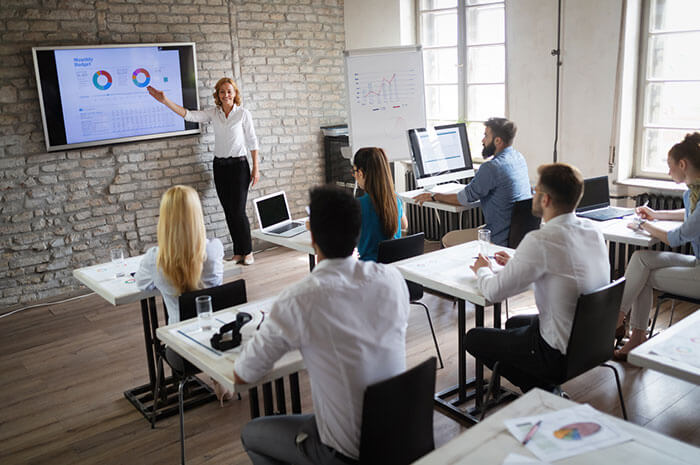 As a franchise owner, it's up to you to train and ready your employees for opening day. They're a reflection of your operation, and if they aren't well trained and disciplined, well, it could ultimately hurt your reputation and your bottom line. Besides, you want your franchise to be a well-oiled machine. On day one and beyond. That means workers who are kind, courteous, and well-versed in all of their assigned tasks. Of course, some of these are personality traits and workers will have them coming in. But when it comes to work skills themselves, it'll be up to you to ensure that your employees are up to par.
Obviously, you should ensure you are hiring the right types of employees right from the get-go. Just because a worker is inexperienced doesn't mean they aren't a good fit. Choose potential employees who are willing to learn and have a good spirit about them. Skills can be trained, a new personality cannot. Choose and make sure you are vetting your employees for their ability to learn, in addition to the skills that they already have.
Take a look at these effective ways to train your franchise employees, and how you can create better, more skilled workers that stick with your franchising brand for the long haul.
Help to better train your workers for success by:
1. Provide Regular Feedback
This goes for positive comments, as well as constructive criticism. No worker wants to only get negative comments, so it's best to sprinkle in good along with the bad. Regularly let your franchise employees know what they're doing well, as well as areas for which they can improve. The combination will help them become better acquainted with the process of earning feedback from a boss (this is imperative for young workers), and it will help all involved. It will allow them to improve, and it will keep your processes improving for the business as a whole.
2. Offer Training Sessions
That is, paid training sessions. Workers who are given the opportunity to learn just might surprise you. However, the time shouldn't be given for free. Teach new skills and abilities while on the clock. This allows you to invest in your employees and create smarter, more informed employees overall. Don't assume workers will learn all on their own. While this is likely to be true, they may not learn in the way that's best suited for your brand. Spend some time and effort on creating standard practices, then teach them to workers for a way to get all on the same page.
3. Offer Continued Education
Your best workers will likely want to learn and make themselves more competitive for their jobs. Why not give them the chance to do just that? Be supportive by offering opportunities for continued education. This might mean paying for the credit, or simply remaining flexible in letting them take time to attend classes. You might even suggest courses for them to take. Doing so can create more valuable employees, as well as those are happier for getting the chance to learn something that interests them. Don't overlook just how much this can provide for well-being and continued worker growth.
4. Create a Positive Work Environment
As the franchise owner, it's up to you to set the tone for how your brand will run. From the get-go you should create a company culture wherein employees want to spend their time. No one wants to stick around at a spot that's overly negative or stressful. Create a positive working environment that allows your entire franchise to thrive, including your workers. You can do this by setting a good example, remaining positive when things get stressful, doing menial tasks, and commenting on a job well done.
5. Create an Opportunity for Growth
Many of your franchise employees may be looking for short term work, but why not give them a chance to stick around? Promote loyalty within your franchise by offering career growth. That means promotions, raises, and earned benefits, such as time off, seniority with shifts, etc. Note that employees are more valuable the longer they've been with your company and it's highly expensive to bring on and train new workers. Don't overlook the benefits of paying your tenured workers more funds, and allowing them a chance to move up the chain with your franchise location.
6. Do it Yourself
If you want something done right, do it yourself. This can be a great motto, simple as it may be. Show your employees that you aren't too good to do something yourself. Then when you do it, do it right. This sets a good example. You may even allow them to watch as you're doing something new. It's a training opportunity along the way. In any case, providing a great example shows just how the task should be done, and proves that even the brand owner isn't above doing the smallest or most unpleasant of tasks.
7. Bring in Pros
What about hiring a professional to bring in new abilities or team building exercises? It can be a fun way for everyone to learn together, as well as a great bonding experience for the entire team. It's win-win all around for your franchise location when it comes to these events. Look at the possibilities for creating whole-team days that help bring everyone together. Besides, the fee is a write-off, so there's no need to worry about the additional expense!
8. Training From Within Your Franchising Team
Finally, it's time to look at the team itself. Allow your senior team members to train incoming workers. This is a way for them to get to know each other, as well as your most experienced workers to pass down their best tips. The longer you own your franchise location, this might even mean workers who know more than you do in certain areas of the business. Bring your best and brightest abilities to the table when hiring new workers to ensure that they're trained in the most efficient way possible.