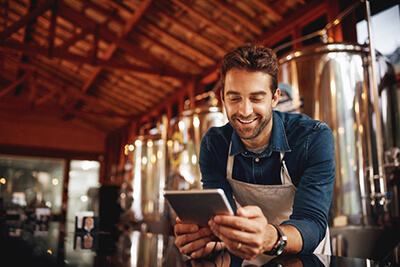 Small franchises provide opportunities for entrepreneurs to open a business without a huge investment. As someone interested in starting a business that doesn't want to or have the ability to open a large franchise like McDonald's or Marriott, a small franchise might be for you. If you're searching for "franchise opportunities near me," you might find sites that list big corporations that don't match your needs or your budget. Thankfully there are ways to find small franchises that you can start for a lower investment amount.
But why should you be interested in franchising over starting your own business? Let's explore the advantages of buying a franchise and how it could be less risky than starting from scratch.
Why Is a Franchise Less Risky than Your Own Business Idea?
Franchises provide entrepreneurs with the framework they need to successfully start their own franchise using an established brand and proven business model. Because starting a small business includes staking finances on a company that isn't established, it can prove risky to begin without the market research data that's already been collected by franchisors.
What are some of the other reasons why starting a franchise is less risky?
Viability is tested and proven over an extended period of time.
Higher rates of success in comparison to a startup business due to brand awareness and loyalty.
Well-established business model that is consistently effective.
Stronger business relationships within the franchise.
What Are the 8 Benefits of Franchising?
One of the most pressing questions entrepreneurs ask when looking to start a business is, "why franchise?" Because franchising is a great option for those who want to start a business, we've listed 8 benefits of franchising below. These benefits help explain why franchising might be a better option for you than starting your own business:
1. Franchises Come With a Manual
Starting your own business comes with developing your own operations and training, figuring out distribution and marketing, and finding equipment suitable for your business. While some might find the challenge intriguing, it can be difficult to get things up and running. With a franchise, all of that is already complete, so you don't have to worry about developing a plan on your own. It's possible that a small franchise business can help you successfully start your own franchise without much competition or districting.
2. Start With Brand Recognition
Franchises come with their own brand recognition, while independent small businesses may be less likely to be recognized. Starting a business from scratch would require you to develop your reputation and customers from the ground up. Most people have heard of a franchise like HotBox Pizza, but it can be difficult to get a small business sandwich restaurant to compete with such a large brand name. Franchises benefit from a loyal customer base and immediate brand recognition. And with a smaller franchise, you can help build the brand into something great.
3. Be Your Own Boss
Autonomy is one of the main advantages of running a business. Although owning and operating a business is challenging, being your own boss allows you to set your own hours, have control over your professional development, and potentially even work from home. With a franchise, you can have control over your business with the added benefit of support from a franchisor.
4. Access Consistent Support
Your franchisor will offer you ongoing operational support if you invest in a franchise, including assistance with marketing, administration, insurance, and legal paperwork. As a franchisee you would have access to a wealth of business support resources that may help you navigate the process of starting and running a business. Especially with smaller franchises, it can be helpful to have the personal support and guidance you need while your voice and concerns are heard.
5. Minimizing Risk
The franchise network is one of the reasons franchise owners have lesser risk than independent business owners. Investing in a franchise provides an owner with the framework to create a business. The majority of franchises are owned by reputable businesses that have tested and proven their business strategy across several markets.
6. Better Access to Finances
It's often easier to access financial assistance with an established franchise on your side, especially compared to a brand new small business. This is because franchises are proven business models that are typically more financially stable. Not only that, but a franchise will likely be more profitable faster than a small independent business. Additionally, since smaller franchises require less capital investment it can be easier to acquire financing.
7. Achieve Faster Innovation and Implementation
The majority of franchises prioritize investing in research, innovation, and technology. Franchises communicate very effectively and efficiently, and they frequently offer up-to-date data analysis. Startups might have more difficulty researching, developing, and introducing their products. With small franchises, this consistent innovation can lead to quicker implementation. However, those looking to really innovate on their own may not fit into a franchise model.
8. Find Opportunities for Growth
It can be difficult to expand your business without the right guidance and support. Franchises offer better opportunities for growth due to their success as a business, with a wealth of information and resources. As your franchise grows and becomes more successful, it will be easier to expand your business into other stores and locations. This is especially important for small franchises that require less investment, as expansion can be more obtainable.
Want to Start a Business? Invest In a Small Franchise!
At FranchiseOpportunities.com, we offer the best franchises in your area within your desired industry and investment level. Since 1999, we've worked hard to continue offering aspiring franchisees straightforward and user-friendly franchise search tools. In addition, we have thorough franchise company information as one of the largest franchise opportunity directories on the internet. Whatever stage of your career you're in, we're ready to help. Contact us today for more information on starting your own franchise.