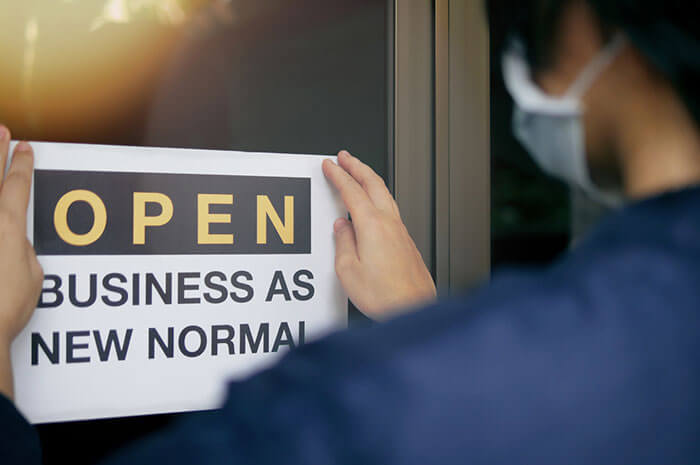 The pandemic took the business world we once knew, and it twisted it into something else altogether. Now, still in the midst of big changes, we learn how to take on the next set of variables. How to adjust your franchise business within a world that no longer makes sense to us. With this, we are learning as we go because everything is new. There's no history to fall on to which you can study business tactics – sure there have been previous pandemics, but nothing comparable within modern times.
Business has changed, and as franchisees, it's our job to find the best ways to help our brand fare through rapid market adjustments.
But where do you start? Where do you take your brand, your business, through the pandemic? And how do you know the best ways to move forward?
Follow the News to Understand how COVID-19 Affects Your Industry
Stay tuned in as often as possible so you can anticipate changes as they're taking place. You don't have to keep your head in the phone, and you certainly shouldn't believe every bit of reporting. You can scan headlines and make a point to fact check – or simply take each title with a grain of salt. Remaining immersed can allow you to know what changes are taking place and how they might affect your franchise business.
For instance, readying your location with masks for sale or strategically placed hand sanitizer. Anticipating the need for customer convenience, knowing when access freedoms will open up, etc.
Pay attention to the news titles that affect your area and your industry most. You can also sign up for email alerts to be sure of the proper protocol for your state on any given day. These things are changing so rapidly that it's imperative to keep your ears open.
Pay Attention to Other Franchising Brands
What are the other guys doing? Who's thriving? Who's struggling? Pay attention for a live study. This will be one of the most important things you follow as a business owner. Yes, it's important not to follow too closely in others' footsteps, but there is no better insight than real, up-close examples. How are brands adjusting for COVID?
Just by paying attention you can get clear insight on tactics that are working, and ones that aren't.
If, during the coronavirus outbreak, you're working on getting your franchise brand up and running, this is an important time for you, too. You can compare different markets and industries to see where you'd be most happy. Put your money into a brand that has longevity and earning power – even during a worldwide crisis. You've got access to the data, simply take some time to research and find your best outcome for franchise ownership.
New Protocol and How to Accomplish a Routine
Now, onto the boring stuff. As a business owner, it's up to you to set the tone for everyday tasks. A routine will be established by you and followed by employees for months to come. (Until a new set of guidelines comes along and requires further change.)
Put state mandates into place with efficiency. Train employees on how to wear their mask, when to let customers in your location, how to safely take temperatures (if required), and more. Discuss protocol for taking cash or touching common items. These steps are simple enough, but they aren't common nature and need to be discussed so everyone is on the same page.
Consider every step of the day and how it might be changed. Can you make in-person deposits? Or does it need to be done via mobile/ATM? How will your marketing tone need to shift? Will you adjust your hours (again, if you've done so already).
These steps are likely changing by the day. However, that's why it's so important to anticipate what can make your business better. This is a chance to implement new ideas and allow your business to thrive. You are no longer held to previous standards; take this opportunity to start fresh.
Then, by communicating clearly with your team, you can create a path that allows everyone to work safely and fluidly, even through added safety protocol or updated business logistics.
Helping your business thrive during the pandemic is an involved, ever-changing responsibility. But it's one that will create adaptability within your ownership abilities, and to your entire team. These are valuable skills that create longevity within a franchise location.