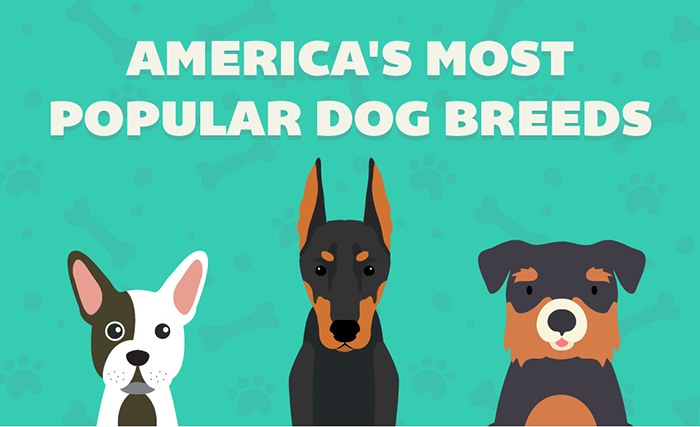 Here at FranchiseOpportunities.com we connect aspiring franchisees with a wide array of franchise types across all industries.
With Earthwise Pet Supply and The Dog Stop coming soon to FranchiseOpportunities.com to offer franchisees business opportunities in doggy daycare and grooming services, we've been reminiscing about our canine friends and discussing our favourite breeds.
But who's top dog when it comes to breed preference in America? And which states prefer which breeds?
To find this out we used 2017 Google Trends data for the top 50 most popular breeds in America according to the American Kennel Club to analyze each state's dog breed-related Google search results. From there, we were able to determine the most popular or most searched dog breed for each state with some interesting results.
Alabama has hot dog fever with the Dachshund being the most popular breed in the Heart of Dixie whereas Florida, Illinois, Massachusetts, New York, and Rhode Island are all francophiles preferring the French Bulldog as their breed of choice.
Indiana, Kansas, Kentucky, North Carolina, Ohio, Tennessee, and Texas must all have precious items they need guarded as the Doberman Pinscher is the top dog in these states.
Probably not a surprise but New Mexico is staying true to its namesake with the tiny Chihuahua being the most searched for dog breed in the Land of Enchantment.
Delaware, Louisiana, Maryland, Oregon, and Wisconsin all like big dogs with the First State choosing the Cane Corso, the Pelican State choosing the the St Bernard, the Old Line and Beaver states choosing the Bullmastiff, and the Badger State choosing the Great Dane as the most searched dog breed.
So who is top dog overall? Well the noble Doberman Pinscher comes in first as the most popular pooch in America being the most searched for breed in seven states. The French Bulldog and the Rottweiler are the 2nd and 3rd most popular breeds with five and three states searching for these breeds the most.
Whichever breed you choose in the end you'll be sure to have a friend for life.