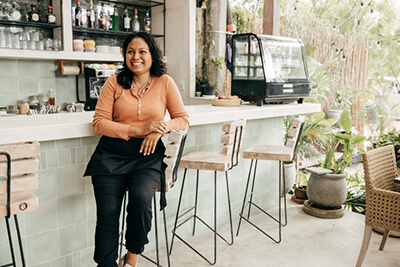 Are you motivated to set your own schedule? Do you like the idea of being your own boss while still having the support of an established business behind you? If so, a franchise might be a great fit for you. To get started, you'll likely begin by searching online for "franchise opportunities near me." And, you might be surprised to find that there are hundreds of options available in nearly every industry imaginable. How do you sift through them all?
One way to narrow your search is by identifying if you're interested in small franchises or large ones. Unfortunately, there's no definitive answer to which is better. The truth is, both have their pros and cons—it really comes down to what kind of experience you're looking for. Keep reading as we explore the positives and negatives of owning a franchise, including specific perks of small and large operations.
Why Is a Franchise Better than a Business That's New?
A franchise empowers you to become your own boss without having to deal with some of the risks associated with launching a totally new brand. Here are just a few benefits of becoming a franchise owner:
Proven Business Model: When you buy into a franchise, you aren't just purchasing the rights to the name and logo. You're also purchasing a business model that's proven to be successful. Investopedia reports that roughly 20% of new businesses fail during the first two years and 45% fail in the first five years. Franchising avoids some of the common pitfalls that new businesses face, like business plan problems, bad locations, poor marketing, and more.
Training and Support: Becoming a business owner is hard work, and you may not have experience as an entrepreneur when you get started. Fortunately, there are many franchises out there that provide initial training as well as ongoing support to help ensure your business becomes—and remains—successful.
Increased Buying Power: When you buy into a franchise, you become a part of a network of businesses. Every business needs to buy goods and supplies. Often, parent companies of franchise networks have the ability to negotiate for bulk, discounted pricing—something a small, independent business may not be able to do. This can drive down operating costs for franchise owners.
Of course, any time you are considering a financial decision, it's important to weigh the positives with the negatives. Here are some drawbacks associated with becoming a franchise owner.
Limited Entrepreneurial Freedom: If you're looking to truly become an entrepreneur by coming up with a brand new, innovative product or service, a franchise may not be the right fit for you. As a franchise owner, you'll need to operate within the parent company's parameters.
Recurring Costs: When buying a franchise, cost is an important factor. Aside from upfront costs, there are recurring fees for things like royalties and marketing that you may be asked to pay. While it's easy to consider these a disadvantage, remember that some fees—like those for advertising—go toward brand recognition which can drive customers to your location.
Now that we've looked at the advantages and disadvantages of franchising in general, let's discuss some specific benefits that come with small and large franchises.
What Are the Advantages of Franchising With a Small Business?
Small franchises are associated with lower initial costs, which is a significant advantage for potential franchisees with limited budgets. You can also typically operate them with few (if any) employees. Let's examine these factors more closely.
Lower Initial Investment: What is the cheapest franchise to start? In general, the lowest-cost options are considered small franchises. In fact, at FranchiseOpportunities.com, you can find franchises that require an initial investment of $10,000 or less.
Fewer Employees: Looking to work by yourself or with just a few employees? A small franchise can provide you that experience. For example, many home-based franchises let you set your schedule while working by yourself or with a small team. This means fewer paychecks to cut and more potential profits for you.
What Is an Advantage of Franchises That Are Large?
Larger franchises tend to be those that are more expensive, which means you'll need more access to liquid assets to get started. Despite a higher initial payout, larger franchises come with benefits like brand recognition and customer loyalty.
Brand Recognition: Most of us have heard of brands like McDonald's, Ace Hardware, and 7‑Eleven. They're household names in communities throughout the country. This kind of name recognition can be a significant advantage for new franchisees. You won't have to worry about the time and money associated with getting your name out there. But, of course, remember that you'll have to pay more in franchise fees and upfront costs for this kind of perk.
Built-In Customer Base: Along the same lines of brand recognition, large franchises often bring with them an established, loyal customer base. Even if you're the first to open a franchise in a particular area, the odds are high that the community will be familiar with your brand.
Find Your Future with FranchiseOpportunities.com
So what size franchise is right for you? Above all else, it's critical to weigh your interests, desires, and budget against what we've talked about to find a match. At FranchiseOpportunites.com, our goal is to help potential franchise owners just like you to get connected with some of the best franchise opportunities around. Once you're ready to start looking into specific franchises, head over to the FranchiseOpportunities.com directory to start searching by industry, location, and investment amount!