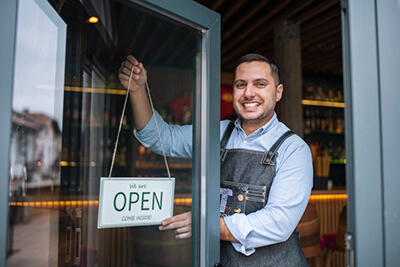 Did you know that it can take between six months and a year to start your own business? That includes the time from coming up with your initial idea to actually opening your doors to customers. And even with all that time invested into opening, only 1 out of every 12 startups is successful. Those odds seem especially daunting when you think about putting possibly a full year into planning and opening. If you start a franchise instead, you can get rid of some of those fears by starting with a proven business plan and recognized brand name.
Before you start searching for "franchise opportunities near me" or "What is the easiest franchise to run," you should have a full grasp of what opening your own franchise looks like and how long it typically takes. That's what this blog aims to cover. Let's dive in.
How Long Does It Take to Become a Franchise Owner?
How long it takes to open your franchise will vary from person to person. However, the SBA suggests that the first six steps above take about three to fourth months. The last two can take anywhere from two to six months to complete. That means the typical time it takes to start your franchise is somewhere between five and ten months.
While this is only slightly shorter than it would take to start your own business, remember that a franchise comes with a business plan for you to follow and a customer base to pull from. Plus, you will have a group of experienced business owners to support you on your journey.
Now let's take a look at what happens in that five to ten months when you're trying to start your franchise.
How Do I Start My Franchise?
To start a franchise, you should follow these steps:
Research. Think about what industries you might be interested in. From there, look into which are in demand wherever you'd like to open your franchise. Then, based on these two factors, find some franchises that you are interested in. A tool like FranchiseOpportunities.com that compiles information on franchises can help. Narrow down your list based on what franchises are available near you in a price range you can manage. Franchise Opportunities will let you filter franchises based on location, price range, and industry.
Request more information. Once you've narrowed down your list of franchises to a few you're interested in, request more information from the franchisor. One such item they will provide you with is a franchise disclosure document (FDD). The FDD will tell you more about topics such as:

How long the franchise has been in operation.
The business experience of the executive team.
Any legal actions that have been taken against the franchise.
Specifics on fees that the franchisee must pay.
Obligations of both the franchisor and franchisee.

Do more research. You can do this step after or in tandem with the previous step. You should reach out to other franchisees who own the concept you're interested in to ask about their experiences. You might ask questions related to:

What the franchisor provides to the franchisee.
How the relationship is between the franchisor and franchisee, especially as it relates to how helpful the franchisor is.
How much the franchisee is making at their location.

The franchisor may even invite you to a Discovery Day where you can shadow current owners and ask questions about their day-to-day experiences.

Secure financing. You will have to pay an initial fee as well as a yearly franchise fee. Some franchises even require that you have a minimum net worth to prove your past successes managing finances. If you don't have cash on hand or a business partner in mind who can help with funding, you may be wondering how to get money to open a franchise. You can apply for a loan through a bank, a credit union, or the U.S. Small Business Administration (SBA). Franchise Opportunities allows you to filter franchise listings by starting cash required if you have a maximum amount you're willing to spend in mind.
Review the legal requirements to start a franchise. These may be listed in the FDD or in a different document in the information packet you requested. It might be helpful to hire a franchise attorney to look over these documents and explain anything to you that might not make sense. That way you can ensure you have a clear picture of what you're investing in.
Purchase the franchise. Once you've made a final decision and let the franchisor know, they will send you a franchise agreement. What is a franchise agreement? It is a contract stating that the franchisor is allowing you to sell goods and/or services using their name and business processes. It also outlines details about payment information and obligations of both parties, similar to the FDD. Your franchise attorney should look over this document as well before you sign it.
Attend training sessions. Once everything is squared away, you will most likely have to attend training about the franchise products or services as well as their business model and how best represent the parent company as a whole. Some franchisors only require a few days of training, and some require weeks.
Prepare for opening day. You will have to pick a location to open if the franchisor doesn't do that for you. You will also have to build up inventory, hire staff, and market the opening of your business. Don't rush through this step as it's extremely important to the success of your business. The business model provided to you should include a timeline you should follow to prepare for opening day.
Find Franchise Opportunities Near You
If you are ready to open your franchise, start looking at FranchiseOpportunities.com. You can search by franchise cost list, industry, or location. We even have a list of the best franchises to own in 2022 if you need more inspiration. The sooner you look into franchises, the sooner you can open and run a business of your own.