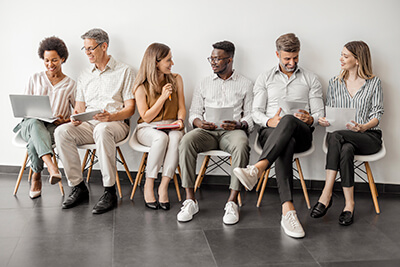 Is it true that good help is hard to find? Hiring for your franchise doesn't have to be a chore. The right employees can radically impact your work environment as well as your caliber of customer service. The franchisor can give you a lot of guidance while you learn how to start a franchise, but the decision to hire employees comes down to you.
Here are some tips to help you find the right staff for your franchise:
Trust the Guidance of the Franchise
The franchisor understands that you might not know exactly how to start a franchise, but they also want you to succeed. This desire means that the franchisor can provide guidance (if not direct assistance) on a number of startup tasks, and that includes hiring employees.
Check and see what sort of hiring materials your franchisor can offer. These materials often include things like:
Job descriptions
Ad templates
Training programs
Corporate policies
Additionally, your franchisor can probably provide guidance on how to handle employee compensation as well as other strategic planning decisions.
Create a Clear Job Description
One of the first steps you'll take when hiring for your franchise is crafting a clear, compelling job description. Think very carefully about what you want from a potential employee. Ask yourself about things like:
A list of daily duties
What skills are required to do the job
The number of hours you need an employee to work
Requirements for each applicant
The last point is important for certain types of franchises. For example, if you operate a plumbing or HVAC franchise, there may be state-level age restrictions, which means you'll have to incorporate age requirements into your job description.
Advertise
Next, you'll need to get the word out. In some cases, your franchisor might be able to provide some "now hiring" signage that you can use at your actual franchise location. But these days, you'll have to think bigger than that.
The best way to attract franchise employees is through one of the many online employment websites. There, you can list your finished job description, list the salary you offer, and explain the application process.
You can solicit applications through the employment website, or you can offer paper applications at your franchise location. Again, your franchisor may offer guidance on this, and today's companies often offer electronic and in-person applications.
Screen Your Candidates
How do you know who's a good "fit" for your franchise? The best candidates will display a variety of characteristics, including:
Prior industry experience
Prior experience with the same franchise
Sufficient age requirements
A positive attitude
You don't need to interview every applicant, but looking for these characteristics can make it easier when hiring for your franchise.
Plan Your Interviewing Process
The screening process doesn't end with reviewing resumes. You'll also want to conduct extensive interviews when selecting candidates for your franchise.
Remember: Customer service is extremely important when hiring employees, so always conduct an interview face-to-face. With that being said, digital technology has made it easier than ever to conduct interviews over the web through video conferencing platforms.
Using these tools can make it easier to schedule interviews without detracting from the other tasks associated with getting your franchise off the ground.
Create a Training Program
Before you know it, you'll have a team together. In some cases, you may have hired employees who have previous industry experience and may have even worked at another franchise location in the past. But in other cases, you'll have to work together as a team as you start your franchise. Additionally, you'll receive training methods from the franchisor. With time and experience, you'll be able to customize your training to your area and management style as long as it doesn't violate any of the agreements in the FDD.
Take the First Step Into Franchising
If you're not presently the operator of your own franchise, now's your chance. Franchise Opportunities offers a variety of educational resources like this one to explain the process of franchise ownership. Use our franchise locator tool to find franchising opportunities in your area, and take your first steps toward business ownership.