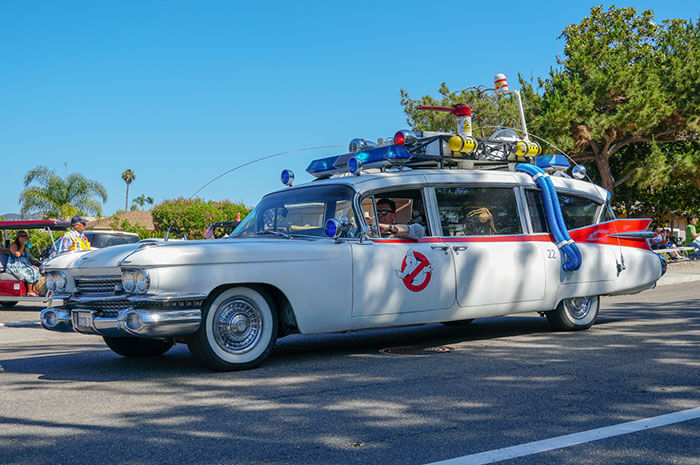 They're just like us! Normal, everyday folks aren't the only ones who dream about owning a franchise business as their dream job, but it's a recurring movie theme, and one we enjoy viewing over and over again. In these films, we get an insider look at what it's like to own your own business, succeed, or find extreme measures to bring your business back up to speed.
Just like the characters we know and love, this is a theme that lets us understand business insights, all while viewing a great movie in the process. We also see personalities and how each person found their best path to thrive in the business world.
Take a look at these notable on-screen characters and their stints with franchise ownership.
Sean Tuohy – The Blind Side
In this film, the characters are based on true life events of a couple in Tennessee who take in and adopt Michael Oher, who went on to play for the NFL. Their story is now a household name, starting first as a book, then as a blockbuster film.
In real life, Tuhoy owns multiple franchise restaurants, which is noted in the movie. It also shows his success within the industry with a large home, fancy cars, and disposable income. In the film, the kids note the restaurants and maintain that they regularly eat from them. To date, he and his wife Leigh Anne own more than 85 fast food franchise locations.
Forrest Gump – Forrest Gump
Bubba Gump Shrimp Company is outlined in this iconic film and proves to be the title character's most successful career endeavor, wherein he owns and helps run a shrimp fishing boat operation. It's worth noting that he started the business in order to fulfill the wishes of his late best friend. (The business's namesake, Bubba.) The film went on to inspire a real-life restaurant chain that has more than 42 locations nationwide.
As a veteran, Forrest shows a successful, albeit rocky, transition from full time active duty to grows and profits as a local entrepreneur.
Donna Meagle, Parks and Rec
Though she has a full-time government job, savvy gal Donna Meagle was making bank behind the scenes with her real estate gig, Regel Meagle. The show had a recurring theme of Donna enjoying the finer things in life, and apparently this was the venture that allowed her to splurge and "treat yo self" on nice belongings.
Donna shows us the perfect way to have a hobby franchise job that not only draws in dollars, but allows you to focus on a particular interest. In her case, it was fancy real estate.
Willa Wonky – Willy Wonka and the Chocolate Factory
In this classic film, Willy Wonka's recipes were so good, folks went undercover to try and steal them from him. He spends his final working years in training a protégé who will continue his work selling delicious treats to the masses. (As if you haven't seen it.) A real-life company was also inspired by the film and customers can buy many of the candy concoctions that are mentioned within the film under the Wonka brand.
Though secretive about his products, Willa Wonky shows us how to create a business from the ground up, and how to pass along a legacy with the model that you've grown.
Peter Venkman – Ghostbusters
There was a need for busting ghosts, and they turned it into a thriving business. Owner Peter Venkman and friends/employees struggled in their beginning days as a brand, but then became incredibly successful in their trade. Ghostbusters as a business, showed us the ups and downs of small business ownership and how one could succeed. It was a concept that went on to make multiple films, including a recent reboot with a female-based cast.
This is one of the quirkiest business ideas in film existence, and for that, we can't get enough of these guys' success rate. The struggle to first find business also mirrors what many new franchise owners fear in their earliest days.
Fred and George Weasley – Harry Potter
When your passion is calling, you follow it. That was the motto of ornery twins, Fred and George Weasley in the Harry Potter series. After graduating from school, the duo went on to start their own joke and magic store, Weasley Wizardly Wheezes. The pair even remained busy when all other businesses in the area were closed and/or struggling. Talk about supply and demand!
This is a great example of finding your own way, and choosing a franchise style that speaks to your interests. The pair made a great go at being entrepreneurs by following their passions, not necessarily hosting ideal business skills.
Lorelei Gilmore, Gilmore Girls
After years of learning her trade, Lorelei Gilmore and business partner, Sooki St. James, opened their own inn and restaurant combo by reviving an old location. The pair showed how to put work experience on your side, all while fulfilling their dream of owning their own gig. In fact, they create an inn that's THE place to be, even for those traveling from towns away.
We love seeing the two learn the business from the ground up (remember, Lorelei started as a part-time maid) and turning it into their livelihood. This is a recurring theme as many franchise owners start as entry-level workers, and work their way up in the business, often becoming owners themselves.
From fulfilling their dream of becoming their own boss, to finding a quirky business model that the masses needed, these characters show us incredible lessons about business ownership.