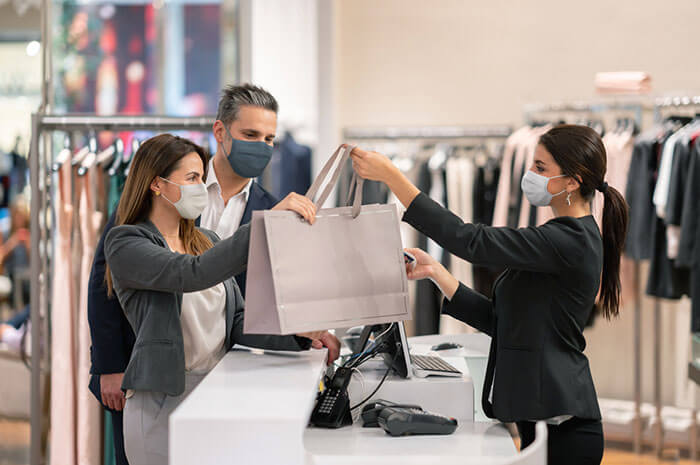 Now more than a year into the COVID-19 pandemic, it's safe to say that business protocols have changed. As laws adjust, as infection rates rise and fall, and vaccine rollouts are continually scheduled, businesses have adapted to the status quo. We roll with the punches, and make businesses that are ready for whatever the public may bring. For franchise owners, that means following state and federal guidelines and each new rule they put into place. It means shifting your location to adhere to changes, such as no-contact drive-up and deliveries. And it means leading your team through it all. Through the stress, through the confusion, through scared or agitated customers.
And before long, it's likely that it will be time to change … yet again. To move onto the next round of whatever the pandemic may bring. But don't fret about the thought of frequent reevaluation of your franchise location, or the logistics of adjusting yet again to state protocols or social norms. Instead, learn from it. Consider it a lesson in learning how to best manage your business.
As a franchise owner, you will deal with many hardships. But stressing over what's ahead shouldn't be one of them. Take on whatever may come your way and push forward as a stronger, better informed professional.
How to Consider Protocol Changes in Franchising
There are certain laws you must follow as a business owner. These are non-negotiable rules. Pay attention to what's going on in your state, county, and within city limits and abide by whatever rules may be released. But there are also areas in which you'll have a say of what goes down.
So, when you see social norms that are adjusting – even before there's a law – you can implement change into your business. You don't have to wait for the law to do what you think is coming. In fact, it's preemptive moves like these that can do right by your brand, and make your customers feel at ease.
As for protocols being relaxed, you only have to lift them when you feel most comfortable. By no means do you have to reduce pandemic guidelines unless you feel safe and ready as a franchisee. Simply place your requirements at the door and allow customers to see them before they enter. And, should they not agree, they don't have to enter your facility.
It's also a good idea to inform customers as to what you're doing and why. Send out emails, share on social media, and more to keep your customer base in-the-know about what's going on at your franchise location.
Meanwhile, check in with your franchising brand. See what adjustments they are making, if any. Or if they are asking you to follow X guidelines, etc.
Keeping COVID Changes for the Long-Haul
In some cases, there will be COVID changes that franchise locations want to keep. Some of the best examples include drive-up/pick-up, delivery, and pre-ordering. For many industries, this proved to be a big boost to business, as well as a convenience for customers. Therefore, there's no rush to do away with these new services. But instead, an argument to keep them, even once COVID threats are completely gone.
While we are still far away from that status, it's something to keep in the back of your mind. Are there brand adjustments you want to remain in place once COVID adjustments are no longer required? If so, how will you work them into your business plan long-term? Start planning now to avoid any confusion later.
Pandemic Laws and Your Franchise
While no one expected to see so many changes to the franchise industry – or any industry – due to a widespread virus, there's something to say about the knowledge in brought for business owners. The changes were sudden and stressful at the time, but a year later, businesses are better off. They worked to trim the fat, run more efficiently, and become more fluid to quick changes. In doing so, franchise locations are better equipped to adjust to the times without it hurting their bottom line.