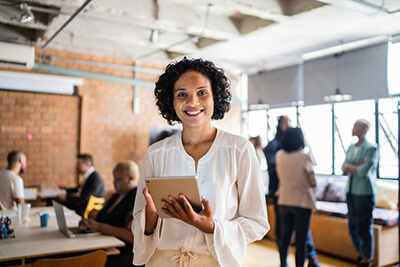 As you search the web for "franchise opportunities near me," you'll find plenty of "the most profitable franchises" lists across the internet, with big names like McDonald's, The UPS Store, Dunkin' Donuts, Taco Bell, and others. However, a profit margin—which is the percentage of revenue retained as income after the deduction of expenses—is a living, fluctuating business metric. It can change dramatically for any franchise from year to year, sometimes even day to day.
For example, in March of 2017, McDonald's profit margin was at 19.58%, and then in September of that same year it jumped to 24.19%, only to fall back to 22.75% in December of 2017. At the end of 2021, it was at 32.49%. On the day you read this blog, it could be the same, higher, or lower than any of those numbers. In general, a 10% profit margin is usually considered average, 5% is low, and 20% or above is high (or "good").
While researching profitability is important, you'll likely discover additional factors that are just as essential to your happiness as a franchise owner, like your personal interest in the industry or the happiness of current franchisees. Maybe you're looking for a low key franchise and are curious, "What is the easiest franchise to run?" Or perhaps you love the idea of starting one of the big name franchises, but you don't have the funds to cover the extremely high startup costs.
So, while turning a profit is good, keep in mind it's only one piece of the puzzle you should consider when shopping for a franchise. However, it is still an important element, and to help you out, we've put together some key factors to consider when it comes to a franchise's profit margin.
How Much Does a Franchise Owner Profit?
An average franchise owner (aka "franchisee") salary can range from $75,000 to $120,000 annually. Some make less, and some can make a lot more. Like any business owner, a franchise owner's salary is largely determined by the success of the franchise, as you can only pull a salary from profits after all your overhead costs have been covered. These costs can include:
Startup Costs – When considering what type of franchise makes the most money, you'll want to take note of the startup costs. Equipment, real estate, remodeling, inventory, websites, insurance, shipping, training—there are numerous startup costs to consider as a new franchisee. So while a popular food franchise like McDonald's may have higher profit margins on a good day, its startup costs are well over $1 million. On the other hand, you can find profitable franchises with low startup costs to give you more wiggle room in your profit margins. Site Swan, for example, is a home-based web design business that you only need $149 to buy into.
The Franchise Fee – Nearly all franchises will have a one-time franchise fee that you pay upon signing the franchise agreement. This is the cost of your entry into the franchise. You're paying for the right to use the franchise's branding, training, business model, and more. These fees can be a few hundred or thousands of dollars, depending on the franchise.
Royalties – A royalty is a fee paid by the franchisee to the franchisor for the continued right to use the franchise's proprietary systems. Average royalties range from 4% to 9% of the franchisor's gross sales, but they can be more or less. Royalties are typically collected on a monthly basis.
Professional Fees – Involving knowledgeable professionals in your franchise journey is a smart move to protect yourself and your potential profits. For example, having a lawyer review the franchisor's Franchise Agreement and the Franchise Disclosure Document can help you understand all the legalese and ensure your rights are protected. It's also a good idea to hire an accountant to help you review the numbers before signing any dotted lines and when tax season rolls around.
Advertising/Marketing Fees – One of the key advantages of operating a franchise is the popularity of a well-known brand. Franchisors spend a significant amount each year on advertising to get their brand out there, and you as the franchisee will be expected to contribute via an advertising fee. Similar to royalties, the advertising fee will usually be charged monthly as a percentage of gross sales or a consistent rate. You'll also be responsible for the costs of any local advertising you choose to do on your own, too.
With so many factors influencing profit margins, it's a good idea to consider all of the above costs when choosing a franchise. But still, the million dollar question is—which franchise is going to be the most profitable?
What Franchise Is the Most Profitable to Own?
The financial services and technology industries were some of the most profitable in 2022. Here are a few franchises to check out in those industries.
CMIT Solutions – Through CMIT Solutions, a growing tech franchise, you can provide IT and cybersecurity services to the businesses in your area. And if you don't have an extensive tech background, not to worry—CMIT Solutions will expand your current IT knowledge and skill sets through training.
Blue Coast Savings Consultants – Want to help businesses save money? Then consider joining the Blue Coast Savings Consultants family. With their fine-tuned strategies for tax incentives, expense reduction, asset recovery, and more, you can help businesses increase their profits (while also increasing your own).
Commercial Capital Training Group – If you'd like to support your local economy through financing solutions, becoming a franchisee with Commercial Capital Training Group may be an appealing option. They will put you through extensive training so you can provide business loans and commercial real estate loans to folks in all industries.
Whether you're looking for more tech and finance franchises, the most profitable entertainment franchises, or some of the best food franchises, Franchise Opportunities has you covered. Start browsing our extensive directory of franchises by industry, investment level, location, and more!