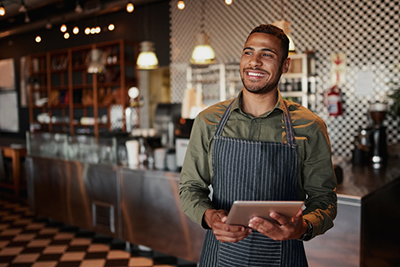 Finding the right "franchise opportunities near me" in the quest to open a restaurant often requires looking outside the fast food franchise list. The up and coming franchises aren't always the household names that your customers can get along the highways and byways of the rest of the world. Instead, the best food franchise to open is one that will succeed in your area. This might mean a fast-casual concept, a vending machine, or even meal preparation service.
Let's start by exploring the biggest food franchises. This blog will help you explore major brands as well as alternative food franchises with a local small business feel.
Which Food Franchise Makes the Most Money?
The top-grossing fast food franchise in the United States is McDonalds. Of the 38,000 McDonalds which operate worldwide in 100 countries, 93% are franchises. Including all the startup expenses and fees, it costs a franchisee between $1.3 and $2.3 million USD to open a McDonalds. If you want to purchase an existing McDonalds, this also usually costs upwards of $1 million.
Subway, Taco Bell, Dunkin Donuts, and Pizza Hut are a few more of the most profitable food franchises. Here's a top ten list of the household names you might recognize.
What Are the Top 10 Food Franchises?
Entrepreneur Magazine ranks food franchises based on different kinds of food they serve. Here are 10 of the best restaurant franchises in 2022 that ranked on the list.
McDonald's
Dunkin'
Denny's
Baskin-Robbins
Popeyes Louisiana Kitchen
Culver's
Taziki's Mediterranean Cafe
Acai Express Superfood Bowls
Chop Stop
Charley's Cheesesteaks and Wings
This list reflects the massive diversity of food types that can succeed in different communities. These concepts and others like them might be the best option for you to open a food franchise you love. Here are some similar ideas:
What Is the Cheapest Fast Food Restaurant to Invest In?
Many food franchises come with startup costs of $250,000 or more. These costs include licensing fees as well as investment in inventory, real estate, staff, and marketing operations. But there are cheaper quick service restaurants you can invest in to achieve the goal of business ownership without spending as much. Here are a few of the cheapest food franchises to open you can learn more about from Franchise Opportunities.
Food Franchises Under 50K
HotBox Pizza: HotBox Pizza is an opportunity to join the pizza revolution. A 6-week leadership training program is part of the 6-month scale-up process that includes site selection and buildout. A dedicated corporate marketing team helps you run ongoing social media, email, and customer loyalty campaigns, as well as the website for your business. Plus, HotBox provides all food and products to its franchisees.
CRAVE Hot Dogs and Barbecue: This fast-casual restaurant serves smoked brisket, pulled chicken, pulled pork, 100% all-beef hot dogs, brats and sausages. A self-pour beer wall, axe throwing, trivia nights, karaoke, bingo, and more are some of the amenities and activities that put these restaurants at the center of their community.
Meal Prep Developers: Meal Prep Developers is an alternative to a restaurant franchise, where your business is selling people pre-made meals that are shipped directly to their homes. As the owner, you choose from over 8,000 meals to sell, and the orders from customers are sent directly to a professional chef for preparation and vacuum sealing. Nationwide delivery capability means your products can reach diners wherever they live.
Explore Franchise Opportunities of All Types and Sizes
Franchise Opportunities is one of the oldest and largest web directories to connect potential owners with the newest and most exciting business concepts. We offer all kinds of franchises, not just food franchises! You can search by investment level, geographic location, or based on the category and subcategory where you might like to do business. For instance, you can see all our up-and-coming food franchises, or focus your search on areas like healthy food, bar and grill, or specific types of cuisine. We hope you enjoy browsing the opportunities in our directory! Find the right match to bring the restaurant of your dreams to life through a proven business concept and model.