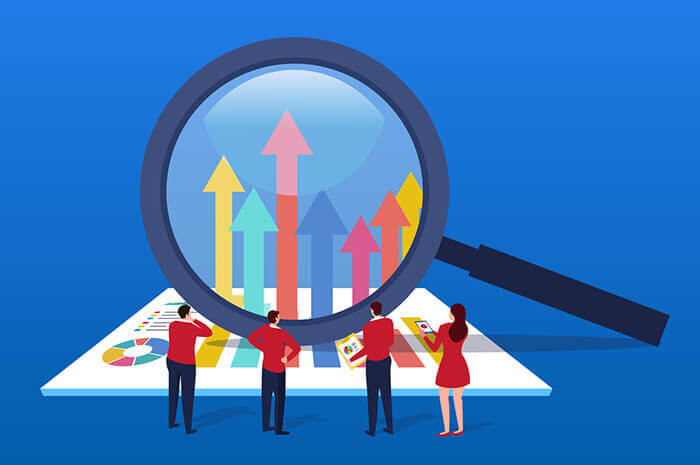 Top 10 Franchise Categories
Wondering what types of franchises are positioned for growth in the years ahead? With more than 4,000 franchise brands in the United States, choosing where to make an investment can overwhelm most prospective franchise owners.
A good place to start your search is with the top 10 franchise categories from Entrepreneur magazine's Franchise 500 2020, an annual list of the 500 strongest and most financially sound franchises based on performance and growth potential. By considering franchises in the top 10 categories, you'll explore businesses that provide some of the most in-demand products and services.
In any franchise category, you'll narrow your choices by considering the following characteristics that Entrepreneur magazine's editors examine for their annual ranking:
Costs and fees: What will you have to pay for your initial investment as well as ongoing royalty and franchise fees?

Size and growth: What is the franchise's history of openings and closures? How many operating units exist and how many are planned?

Support: What type of support do franchisees receive in key areas including training, marketing, operations, financing, and litigation?

Brand strength: How does the brand hold up in the marketplace when you examine its social media presence, system size, years of operation, and years of franchising?

Financial strength and stability: Do the numbers in an audited franchisor report demonstrate a fiscally sound organization?
Read on to find out more about these investment-worthy industries and some of the leading businesses in each segment. For more information about specific industries, read FranchiseOpportunities.com's industry profiles.
Beauty/Grooming
The beauty and grooming industry ranks among the top 10 franchise categories by offering a wide range of general and specialty businesses. These franchises provide all types of cosmetic, personal care, and spa treatments. According to Beauty Business Journal, beauty and grooming businesses align well with franchising because consumers like to use beauty/grooming vendors in which they have brand trust. A franchise in the beauty/grooming industry offers customers a proven record of service and results from the start.
Owning a franchise in the beauty industry allows you to build a customer base of consumers who are familiar with your franchise's reputation and may be willing to give your business a try based on name recognition and past experience alone. Once you get customers in the door, you can work to earn long-term trust at your location.
Some of the most in-demand franchises in this category involve grooming services for children and men. Many franchises offer more than one type of service, with waxing, eyebrow and lash treatments, nail care, and retail products often complementing traditional hair care services. At the same time, the increase in numbers of older Americans has contributed to a higher demand for anti-aging skin care and rejuvenating spa treatments.
Some beauty/grooming franchises listed in Entrepreneur magazine's Franchise 500 2020 include:
Clover Life Spa

Diesel Barbershop (haircutting for men and boys)

Frenchies Modern Nail Care

Hand and Stone Massage and Facial Spa

Lay Bare Waxing Salon (sugaring and waxing services)

Nikita Hair (hair salons for men and women)

Palm Beach Tan (tanning salons)

Sport Clips (haircutting for men and boys)

Salons by JC (salon suite rentals)

Sharkey's Cuts for Kids (haircutting for children)
Breakfast
While many food categories exist among the top 500 franchises, the breakfast industry rises to a top-10 franchise category as businesses meet demands for quality and convenience. Breakfast is growing as a trend in all types of food franchises. With an emphasis on convenience and fresh ingredients, breakfast items that work as "grab-and-go meals" are most popular.
The National Restaurant Association reports that about 2/3 of morning meals purchased at restaurants are consumed at places other than a restaurant, reflecting the fact that most people eat breakfast in the car or at work. It's the reason that quick-service restaurants account for 79% of all restaurant morning meals, according to the association.
Breakfast franchises that can offer fast and consistent service attract repeat customers willing to incorporate no-hassle breakfast stops into their morning routines. Franchises that also provide high quality coffee and healthy juices increase revenues and encourage repeat customers by making their businesses one-stop breakfast destinations.
The success of these franchises proves how much Americans value breakfast items. When questioned, 56% of consumers say they would order breakfast items more if they had the option to order them all day, according to the National Restaurant Association.
Some breakfast franchises listed in Entrepreneur magazine's Franchise 500 2020 include:
Aroma Joe's Coffee (specialty coffee, frozen drinks, and breakfast food)

Dunn Brothers Coffee (specialty coffee, tea, breakfast, and lunch items)

Duck Donuts Franchising Co. (gourmet donuts and coffee)

Eggs Up Grill (breakfast, brunch, and lunch restaurant)

Elmer's Breakfast Lunch Dinner/Egg N' Joe (all-day breakfast, lunch, and dinner)

NYC Bagel and Sandwich Shop (bagels and sandwiches)

Scooter's Coffee (coffee, tea, smoothies, and baked goods)

Shipley Do-nuts (gourmet donuts, breakfast items, and coffee)

The Flying Biscuit Café (Southern food and breakfast food)

The Human Bean Drive Thru (drive-thru coffee, espresso, and frozen drinks)
Child care
An emphasis on educational child care helps this industry remain among the top 10 franchise categories. While the need for child care isn't anything new, franchises that align with current industry trends and parent preferences can be positioned to succeed.
Most child care centers cater to younger children who need care while parents work. However, these franchises provide much more than babysitting service. The emphasis typically centers on early learning, often with a formal early education curriculum in place.
Almost 60% of children under the age of 5 participate in some form child care on a regular basis, according to a report by the Committee for Economic Development. The child care industry continues to grow as the number of women who have children under age six and work outside the home increases. At the same time, more of these families are turning to market-based child care versus family or home-based care.
The increase in child care center attendance is also partially attributed to the fact that more centers offer features that appeal to working parents. Child care by the hour, flexible payment arrangements, and even drop-in programs attract parents trying to get the best quality for their child care dollars.
Some top child care franchises listed in Entrepreneur magazine's Franchise 500 2020 include:
Celebree School (early childhood education and child care)

College Nannies, Sitters, and Tutors (Nanny, babysitter, and tutor placement)

Giggles Drop-in Childcare (Hourly child care, afterschool, and summer programs)

Goddard Systems Inc. (infant-to-preschool educational child care, afterschool, and summer programs)

Ivybrook Academy (Preschool with Montessori methods)

Kiddie Academy (early childhood education and child care)

KidsPark (hourly child care and preschool)

KLA Schools (preschool and child care)

Lightbridge Academy (early childhood education and child care)

Montessori Kids Universe (educational child care)
Entertainment/Recreation
As consumers gain more disposable income, they've helped position entertainment and recreation franchises among the top 10 categories. There's plenty of ways to succeed while having fun with an entertainment/recreation franchise, especially with nontraditional entertainment like escape rooms. New and innovative recreation options, along with experiences facilitated by technological advancements such as virtual reality, attract consumers by offering unique ways for them to spend their leisure time and money.
Franchises with offerings such as axe throwing and trampoline parks appeal to consumers who desire to be physically involved in their experiences, while franchises that offer paint-and-sip experiences or DIY crafts appeal to other groups looking for ways to socialize in more low-key atmospheres. However, franchises offering new ways to experience traditional entertainment, like dine-in movie theaters, are also thriving.
Overall, recreation spending in the U.S. is on the rise as the economy remains healthy and disposable income increases. In the five years leading to 2017, U.S. recreation spending increased by 24%, according to L.E.K. Consulting, a global consulting firm. Industry analysts found that spending in this category followed an overall consumer trend that favored spending on experiences versus things. According to industry analysts, consumers are often attracted to novel and original entertainment/recreation experiences because they provide lasting value when used as content for social media posts.
Some top entertainment/recreation franchises listed in Entrepreneur magazine's Franchise 500 2020 include:
Alamo Drafthouse Cinema (Dine-in movie theaters)

American Poolplayers Association (recreational billiard leagues)

Axe Monkeys (indoor axe-throwing venues)

Board & Brush Creative Studio (DIY wood-sign workshops)

Color Me Mine Enterprises Inc. (DIY ceramics studios)

Cruise Planners (travel agency)

DivaDance (adult dance classes and parties)

Expedia CruiseShip Centers (retail travel agency)

Painting with a Twist (paint-and-sip studios)

Paniq Room (escape rooms)
Fitness Businesses
In response to a societal emphasis on eating healthy and looking fit, the fitness industry has experienced consistent long-term annual growth and remains a constant among the top 10 franchise categories. In 2017, U.S. health clubs attracted a record high of 60.9 million members, according to the International Health, Racquet & Sportsclub Association (IHRSA), up 6.3% from 57.3 million members in 2016. The numbers represent the fact that one out of every five Americans age 6 and older belongs to a health club or studio.
Industry experts propose a range of factors contributing to a rate of growth that doesn't indicate slowing down. The fact that the industry can sustain so many options and offer "something for everyone," opens the door for franchises that offer unique or specialized programs.
Specialized boutique franchises foster camaraderie and group fitness for those motivated by group workouts, while there's also a market for larger franchises that offer low prices sustained by a high number of members.
Some top fitness franchises listed in Entrepreneur magazine's Franchise 500 2020 include:
British Swim School USA (swimming lessons for children)

F45 Training (group training studio)

Fit Body Boot Camp (indoor fitness boot camps)

GymGuyz (mobile personal training)

Hard Exercise Works (boot camp fitness programs)

My Gym Children's Fitness Center (early childhood fitness programs)

Overtime Athletics (youth sports program)

Retro Fitness (health clubs)

Skyhawks Sports and Supertots Sports Academy (sports camps and programs)

StretchLab (assisted stretching boutique)
Health
A growing aging population and increasing acceptance for nontraditional medicine contribute to keeping the health industry among the top 10 franchise categories. Health franchises include products and services that range from traditional to alternative options. These businesses provide products and services that include walk-in clinics, medical equipment, and health-based treatments and therapies.
Some of the most lucrative business opportunities include franchises that offer complementary and alternative medicine (CAM), a group of practices and products not typically included with conventional medicine. Providers use complementary medicine in addition to standard medical treatment, while alternative medicine typically replaces conventional medicine.
About 38% of U.S. adults use complementary and alternative medicine (CAM) in one year, according to data reported by the National Institutes of Health (NIH), representing a significant potential market. Overall, consumer expenditures on CAM represent about 11.2% of total out-of-pocket health care expenditures in the United States.
Some top health franchises listed in Entrepreneur magazine's Franchise 500 2020 include:
BeBalanced Hormone Weight Loss Centers

Lice Clinics of America (lice treatment services and products)

Modern Acupuncture

My Eyelab (optical business)

Prespira Sauna Studio (infrared sauna studios)

Relax the Back Corp. (products for posture correction and back support)

Restore Hyper Wellness & Cryotherapy (wellness services and cryotherapy)

The Joint Corp. (chiropractic services)

Transcend Hospice (hospice agencies)

True Rest Franchising LLC (flotation therapy)
Juices/Acai Bowls
The juice and acai bowl industry ranks among the top 10 franchise categories because of the continued consumer emphasis on healthy food and drinks. However, success in this industry requires flexibility to adapt to rapidly changing consumer preferences and menu trends, according to IBISWorld, a market research firm.
One of the newest trends in the healthy juice industry includes the acai bowl, a menu item based on the acai berry, a Brazilian tropical fruit linked to a wide range of health benefits. Typically eaten as a breakfast food, an acai bowl begins with a thick acai smoothie that's topped with healthy ingredients like fruit, oatmeal, or peanut butter.
Acai bowls, like other health-oriented snacks, are a popular complement to a natural juice bar menu. Other menu items in demand at juice and smoothie bars include cold-pressed juices, juice shots, dragon fruit (pitaya) bowls, and kombucha tea.
Some top juice/acai bowl franchises listed in Entrepreneur magazine's Franchise 500 2020 include:
Bahia Bowls (acai and pitaya bowls, smoothies, and kombucha)

Clean Juice (organic juices, smoothies, and acai bowls)

Jamba (smoothies, juices, bowls, and healthy snacks)

Nektar Juice Bar Inc. (juices, acai bowls, and smoothies)

Plant Smoothie (smoothies and snacks)

Robeks Fresh Juices & Smoothies (juices, smoothies, and bowls)

Smoothie King (smoothies, healthy snacks, and health-oriented products)

SoBol (acai bowls)

Sweetberry Bowls (acai bowls, salads, wraps, and smoothies)

Tropical Smoothie Café (smoothies, wraps, salads, and sandwiches
Mexican Food
The increasing appeal of Mexican food in both quick-service and full-service restaurants positions Mexican food among the top 10 franchise categories. Restaurants that specialize in Mexican food represent 9% of all U.S. restaurants. That makes Mexican food the second most popular menu type in the country, according to industry analysts at CHD Expert. When compared to other cuisines, Mexican food is more common than pizza and hamburgers.
Hispanics of Mexican origin represent 11% of the U.S. population and the largest Hispanic-origin population in the U.S. While that represents a significant source of ethnic customers, Mexican food also appeals to mainstream American consumers, giving this popular cuisine two important markets.
Mexican franchises offer a variety of foods, ranging from traditional to regional specialties, offering a wide range of choices. The fact that Mexican food generally uses fresh ingredients and made-to-order menus also make the cuisine appealing to those seeking health-conscious meals.
Some top Mexican food franchises listed in Entrepreneur magazine's Franchise 500 2020 include:
Baja Fresh

Bubbakoos' Burritos

Chronic Tacos Enterprises Inc.

Fuzzy's Taco Shop

Go Burrito

Moe's Southwest Grill

Pancheros Mexican Grill

Qdoba Mexican Eats

Taco Bell

Taco John's Int'l. Inc.
Pets
The growing pet population helps position the pet industry among the top 10 franchise categories. An estimated 67% of U.S. households own at least one pet, representing 84.9 million homes, according to the American Pet Products Association (APPA). When ranking basic annual expenses for pets, pet owners spent the most money on surgical and routine vet visits. Food and kennel boarding ranked third and fourth in expenditures.
Pet franchises cover a wide range of products and services, with many franchises offering more than one revenue stream. As more millennial and Generation Z consumers become pet owners, the industry has maintained annual growth by responding to changing consumer demands.
Preferences for healthy, natural foods and treats, technological innovations, and unique and convenient options for pet care services have allowed both conventional and innovative pet care franchises to thrive.
Some pet franchises listed in Entrepreneur magazine's Franchise 500 2020 include:
Always Faithful Dog Training

Aussie Pet Mobile Inc. (mobile pet grooming)

Central Bark (day care for dogs)

Dog Training Elite

Dogtopia (dog boarding, day care, and grooming)

Hounds Town USA (pet boarding, pet grooming, and day care for dogs)

Pet Supplies Plus (retail pet supplies and pet services)

Pet Wants (Natural pet food delivery)

The Healthy Animal (health food stores for pets)

Zoom Room (indoor dog training and socialization)
Restoration Services
Recession-proof restoration services rank among the top 10 franchise categories because they're likely to have a steady stream of customers. Franchises in this category thrive because disasters occur and require cleanup regardless of the economic environment.
Disaster recovery and property restoration are expected to continue as growth industries, especially with predictions for weather-related disasters due to the effects of climate change, says CNBC. About one in 20 insured homes has a homeowners insurance claim every year, with about one in 50 insured homes having a property damage claim related to wind or hail, according to the Insurance Information Institute.
With consumers becoming more aware of the potential health and structural dangers of moisture issues like mold, restoration services can have continuous sources of revenue in both residential and commercial markets even without natural disasters.
Some restoration franchises listed in Entrepreneur magazine's Franchise 500 2020 include:
911 Restoration

AdvantaClean

Certified Restoration DryCleaning Network LLC

Duraclean

PuroClean

Rainbow International Restoration

Restoration 1

Service Team of Professionals (STOP)

Servpro

Steamatic Inc.