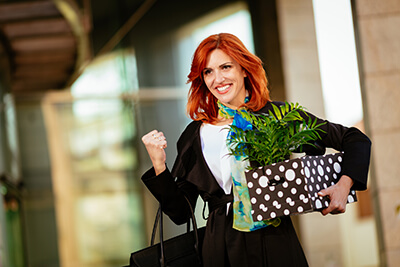 Many people have the dream of starting or running their own business — over 600 thousand people take the plunge and start their own businesses every year, according to Chron and SBA estimates.
There are many reasons why this idea is so appealing — the least of which are the advantages of being your own boss. A Gallup Poll has indicated that more than half of working Americans would prefer to be their own boss. Beyond this benefit, however, owning your business offers more independence, flexibility, and job security than corporate positions.
While being your own boss comes with unique challenges, they may be preferable in comparison to those associated with entry-level work. Either way, determining whether you should go into business for yourself shouldn't be a decision made lightly, as there are several considerations you should make beforehand.
Signs That You Should Quit Your Job and Work For Yourself
It may be difficult to decide when is the best time to quit your job and start your own business, but typically, there are signs that may indicate it is time to make that call. These signs may differ depending on your specific circumstance, but here are some instances you can be on the lookout for:
Recurring burnout;
Feeling professionally unfulfilled;
Struggling to perform daily tasks;
Degradation of quality or efficiency in daily tasks.
The presence of any or all of these signs may tell you that it's time for a career change. If you feel like it's time to leave your current job, you'll want to put a plan in place for your financial and mental well-being. Setting up a timeline, particularly if you're looking to open your own business, and factoring in when you can or need to quit your day job can be incredibly helpful for this transitionary period.
Finding the Job You Want To Do
If you're ready for a career change, but aren't quite sure as to what, there are several ways that you can discover work you are passionate about. Some of these avenues include:
Volunteering in your community;
Turning your hobbies into your career;
Attending classes or pursuing a new degree;
Building on the favorite parts of your corporate job — organization, delegation, client outreach, and so on.
Once you've found your new direction, opportunities like franchising can be a great way to start working for yourself in a new industry or field faster than launching your own business.
Start Your Next Job Before Quitting Your Current Job
Starting your business before you quit your corporate job can be a great way to solve financial slowdown, however, it can be a huge time commitment. If you are going to do this, you want to make sure that it won't cause more issues than it's solving.
For example, if you can't work your current job, perform necessary child care, and work on your new business at the same time, this may not be the option for you. However, if you have more free time or support, this can be a great way to start the ball rolling.
There are different ways of going about doing this, such as working on simple aspects of your business when you find the time in between your full-time job. This can be during work breaks or when you're at home. Additional things you can work on while still holding a day job include:
Filing for necessary permits or incorporations;
Branding;
Building your online website;
Starting social media profiles;
Creating goals and timelines;
Reaching out to manufacturers or vendors for partnerships.
How much you can get done on your new business before leaving your day job will entirely depend on the demands on your time — both from work and your personal life.
Growing Your Side Hustle Into a Career
One of the easier ways to start your own business is to grow a smaller business or your "side hustle" into a full-time career. For example, if you have an Etsy shop, you can turn this into your full-time gig. There are some things that you can do to expand your small business, including:
Taking more orders;
Promoting more on social media sites;
Creating dedicated profiles for your business;
Running sales or contests to increase engagement;
Expanding your product list where possible.
If you don't have an established small business or side hustle, you can get started with smaller business investments, such as low-cost franchising opportunities. Many of these low-cost franchise opportunities are smaller brands that allow you more flexibility — rather than national titans with a set operating system, like Subway.
Creating Your Business Plan
Creating a business plan is a crucial part of running your own business. Your business plan not only acts as a guiding factor for you and any employees you might have, but also for any investors you may need to secure, including private investors and banks. There are several types of business plans, and the Small Business Association (SBA) offers templates. The basics of a traditional business plan include:
Executive summary;
Company description;
Market analysis;
Service or product line;
Financial projections;
Appendix.
Your business plan may include more or less of these steps, depending on the goals you're looking to achieve with it. For example, you may include a funding request if you're seeking funding, but this can be excluded for general use.
Executing Your Plan
Once you've created your business plan, it's time to follow through. This includes not only securing funding, but also:
Securing any space you may need for production;
Hiring any employees you may need;
Securing vendor relationships;
Setting up your website and Point-of-Sale (POS);
Launching or relaunching your brand.
Your type of business — whether it be brick and mortar, e-commerce, or a hybrid — as well as the resources at your disposal, will help shape what your business plan execution will look like.
How To Be A Good Boss To Yourself
Finally, one of the most important parts of making this career shift is to remember to be a good boss to yourself. Despite working for yourself, you can still create a toxic environment that can be just as unfulfilling as your corporate job. Here are some tips for being a good boss to yourself:
Allow yourself breaks;
Don't expect perfection;
Give yourself enough time to adequately finish things;
Ask for help when you need it;
Work on work/life balance.
Working for yourself can be incredibly rewarding, even with the increased effort. For first-time business owners, it's important to approach your first self-run business with patience and self-kindness. By taking things one step at a time, you can set yourself, and your business, up for success.