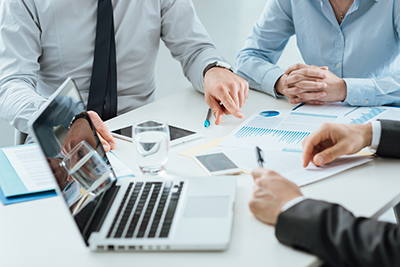 As technology and culture advance and evolve, many aspects of yesteryear can become distant memories, sometimes unexpectedly. Ridesharing apps like Lyft and Uber revolutionized the taxi industry. And streaming services like Netflix and even YouTube have changed the way people think about movies and TV.
However, many industries have not been impacted as directly by society's continuing advance into a digital world. Some businesses offer services that will either remain needed, or experience increased demand thanks to technological advances.
Still, potential upheavals add increased risk for prospective entrepreneurs, and highlight the benefits of buying into an established franchise. A franchise may have more resources so you can pivot to account for new technology. Or, you could start a franchise in an industry that is resistant to disruption by technology.
Cleaning
The cleaning industry offers several business models that are unlikely to change due to technological advancement. Carpet and upholstery cleaning, power-washing, and appliance cleaning are just some of the many opportunities for those looking for a promising, future-proof cleaning franchise.
Improved technology as well as the invention of new and more powerful cleaning tools could increase the number of services a company offers. Inventions such as robot vacuums are a powerful tool in the cleaning arsenal, but can't replace the need for deeper cleaning. The last few years have seen an emphasis on sanitization, and the U.S. Bureau of Labor Statistics projects the need for building cleaners to grow well into the future.
Data and Analytics
The collection and analysis of data is an important part of determining the strategy that drives many businesses. Computers have forever changed the way data is collected, and advances in this area should only make the data more detailed and valuable to companies.
Technology will likely continue to offer new and more robust options for interpreting data. Companies will rely on data analytics professionals to turn that data into actionable information and implement new business plans using the information acquired. Collecting data often requires a level of ingenuity and expertise that will make it a valuable skill long into the future, with related careers projected to grow by nearly 20% over the next decade.
Home and Repair Services
Like other physical repair jobs, home renovations and repairs involve problems that exist entirely in the physical world. Because of that, businesses that deal in home and repair services are naturally future-proof. Advanced technology might lead to more smart home devices, but even these will need skilled home improvement technicians to install and maintain.
Home maintenance includes a lot of varied and in-demand services that make for rewarding franchise choices, including gutter cleaning, lawn care, and electrical installation. The nature of these services promises that they will be in demand far into the future, and unchanged in a digital world.
Pet Services
While technology is unlikely to replace most pet services at large, there are many ways it can enhance pet care. For example, a boarding kennel could use streaming video to allow clients to check in on their pets whenever they want. A grooming service can allow customers to customize their grooming experience and schedule an appointment online before leaving their homes.
Further advances will likely increase the ways pet owners can interact with pets that are receiving services, but the changes should be small enough to require only minimal investment. Those looking for pet service franchise options can select from businesses that offer dog training, daycare, grooming, and waste management.
Childcare
The childcare industry involves many different businesses that serve different roles in child development and care. Technology can offer supplements to childcare by providing a wealth of information on just about any topic, but it can't replace in-person needs for childcare.
From fun physical activities, to tutoring services, to facilities that offer educational enrichment, childcare offers diverse opportunities for those looking to franchise. And these businesses can be even more rewarding since they help make an impact on future generations.
Shipping, Freight, and Logistics
While the core foundations of shipping and logistics will always come down to physically moving goods along the supply chain, many aspects of the industry may be enhanced by technology. Shipping itself may change as the advent of self-driving cars presents the potential to reduce supply chain bottlenecks. However, logistics is a complicated, multifaceted field that will continue to need skilled workers.
Because of these factors, franchises in logistics and shipping make strong choices for those looking for businesses that will continue to prosper and offer a valuable function for consumers. Technology is poised to reduce the time it takes for a delivery to be made, or to offer more detailed tracking information, meaning the shipping, freight, and logistics industry will remain a vital part of a growing, fast-paced world.
Entertainment
The entertainment industry has seen great impacts from technology, and technology will always offer entertainment options. Moreover, the industry is brimming with all sorts of opportunities for both digital and physical entertainment.
Those looking for future-proof franchise opportunities in the entertainment sector have a variety of attractive options. Robust future-proof options include kids' party services, bowling alleys, and family entertainment centers, which Verified Market Research projects to grow by almost 10% by 2028. Entertainment continues to play an important role in society, and diverse tastes mean plenty of room for a variety of entertainment offerings.
Health and Fitness
While technology can help with things like tracking your progress toward fitness goals, it can never replace going to the gym. Businesses in the health and fitness industry can make beneficial additions to their services with things like apps to track nutrition, activity, and other fitness goals. However, for consumers, there is no real substitute for putting in work at the gym.
Nutrition planners, martial arts-inspired fitness regimens, and health supplement suppliers offer reliable business models that benefit from the touch of in-person service. These franchises provide valuable services to an increasingly health-conscious public, while remaining in step with technological advances. The Centers for Medicare & Medicaid Services expect national health spending to grow more than 5% by 2030, suggesting this trend of health awareness will continue.