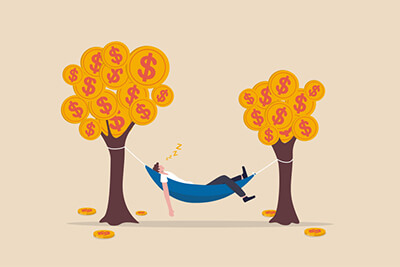 Passive income—the phrase is everywhere, and for good reason. Without sources of passive income, you're limiting your earning potential. After all, you can only work so many hours per day. And with passive income, you won't have to work every waking hour to maximize your earnings. The goal is financial and time freedom.
Owning your own business can be an effective path for achieving your financial and work-life balance goals. However, starting a business from scratch takes an immense amount of time, creativity, and let's be honest—luck. Starting a brand new business is an uphill battle. You need to create a product or service that can compete in the marketplace; you need to establish and promote a brand identity; and you need to design and fine-tune your business processes.
Fortunately, starting from scratch isn't your only opportunity for owning a business that will produce passive income. By becoming a franchisee, you can reap the rewards of owning a business without the risks associated with building a new brand.
If your goal is passive income, then searching for "franchise opportunities near me" would be a great first step. You'll want some more questions answered, too, like "What is the easiest franchise to run?" and "Can you run a franchise without being there?" That's exactly what we'll be covering in this article. Let's dive in.
Can You Be an Absentee Owner of a Franchise?
It is possible to be a semi-absentee owner of a franchise. In other words, you can own a franchise while hiring a capable team to manage the day-to-day operations. That means you could only need to be active for a few hours a week to check in on things.
One way franchisees can gain sources of passive income is to open multiple locations of a franchise. After learning how to be successful at one location, you can expand to new territories with managers to run those locations. While you continue to work at your original location—or decide to to spend more time on your personal goals—your multiple streams of income can elevate your lifestyle.
True-absentee franchises are difficult to find. After all, your franchise will be contributing to your livelihood, so you'll want to make sure everything is running smoothly.
Which Franchise Is Best for Passive Income?
Franchises that run themselves are the best option for passive income. The following qualities of a franchise signify that you may be able to transition to a hands-off approach:
Scalability: As we mentioned earlier, opportunities for opening new locations can provide an exponential growth in income—without needing to spend countless hours overseeing each team.
Ownership Flexibility: If your goal is passive income, steer clear of franchises that require owners to have a frequent onsite presence. While these franchises may still be good business opportunities, they won't provide the freedom you desire.
Beginner Friendly: When becoming a franchisee to build sources of passive income, you don't want to waste time. Thankfully many franchises, like Voodoo Brewery, don't require previous industry experience. Instead, compact and comprehensive training from your franchisor will teach you everything you need to know.
High Demand: Passive income sources work best when they're low risk. Businesses that have in-demand products and services will continue to bring in money even when the economy goes through slower periods. In fact, food and beverage franchises like Beef-A-Roo tend to be recession proof.
Surplus Cash Flow: When researching franchises, you'll want opportunities with higher cash flow so you can afford to hire managers without sacrificing your own income.
What Franchises Allow Absentee Ownership?
Each franchise will have their own policy on absentee ownership. Some will require that the owner is also the operator. Others will permit owners to work less than 20 hours per week, and some won't have any onsite requirements for owners.
The best way to find out what each franchise's ownership policy is by requesting franchise information through Franchise Opportunities. Simply search for franchises in your area, price range, and interest, then select your favorites to get more details.
Find the Best Absentee Owner Franchises
When it comes to exploring your options for developing passive income streams, look no further than Franchise Opportunities. Beyond location, budget, and industry, you can also search for top franchises and trendy franchises in your area.
You can also find franchises that provide a return on your investment with minimum time commitment. Take Healthier4U Vending, for example. After setting up your vending machines, you only need to spend an average of eight hours, or one work day a week stocking and maintaining machines to earn income. This franchise also offers investment options ranging from $53,000 to $360,000+, so you can scale your business to suit your goals.
Your future starts today. Find your path with Franchise Opportunities.