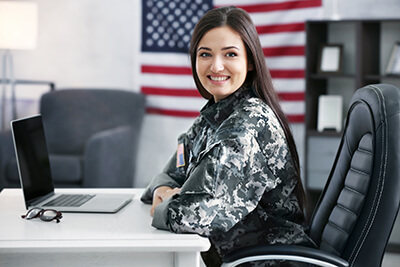 As a female veteran, you have plenty of qualities that make you a great candidate for business ownership. You're disciplined, motivated, and capable of handling challenging situations. However, starting your own business can still be daunting with women underrepresented in entrepreneurship.
Nearly one in 10 small businesses, or about 2.5 million, are majority-owned by veterans, and women own only 15% of them. But don't let that discourage you.
There are plenty of resources to help female veterans start and grow their businesses. The key is to do your research and tap into the right networks.
Challenges for Female Veterans Starting Businesses
Starting a business is already difficult, but there are a few unique challenges that female veterans face.
Gender Biases
Gender bias is when people make assumptions or judgments about others based on gender. When it comes to business, women often face discrimination due to a lack of access to capital and barriers to networking opportunities.
These experiences can make it harder for women to compete in the business world, which is already tricky enough. It can be especially difficult for female veterans who are already breaking barriers.
Access to Capital
Many small businesses need access to capital to get started or grow. Unfortunately, women-owned businesses often have more difficulty getting loans and investments than their male counterparts.
Nearly two-thirds of women-owned businesses face a funding gap when trying to get money from lenders. Even women with low credit risk are less likely to receive all the money they need.
There are a few reasons for this. For one, women are more likely to start retail businesses, which is a higher risk for investors. Another is that they may have less experience or fewer connections in the business world. This can make it difficult for female veterans to get the funding they need to start or grow their businesses.
Success Stories of Notable Female Veteran Entrepreneurs
Having role models is always inspiring and can also be advantageous when you're starting a business. Many notable female veteran entrepreneurs have achieved success in a wide variety of companies.
Phyllis Newhouse, Athena Technology Acquisition Corp., Xtreme Solutions Inc., and ShoulderUp
After a 22-year career in the military, Phyllis Newhouse became a serial entrepreneur and investor. She is a pioneer in the business world, being the first woman to win an Ernst & Young Entrepreneur Of The Year® award in the technology category and becoming the first African American female CEO to make a special-purpose acquisition company public.
Dawn Halfaker, Halfaker and Associates
Purple Heart and Bronze Star Medal recipient Dawn Halfaker founded Halfaker and Associates, a VA-based company that provides professional services and technology solutions. Her company employs over 125 people and earns approximately $25 million annually.
Kathryn Bruner, Kathryn Bruner Realty LLC
After serving eight-and-a-half years in the U.S. Coast Guard, Kathryn decided to start her own real estate business. She owns a real estate brokerage and has been featured in numerous publications.
Louisa Long Jaffe, Technical and Project Engineering, LLC (TAPE)
After completing a 28-year career in the U.S. Army, Women's Army Corps (WAC), and Army Reserves, Louisa Long Jaffe used her skills to cofound Technical and Project Engineering, LLC (TAPE) with her husband, which is a systems engineering company.
Amy McDougal, CLEAResources, LLC
Amy McDougal is a veteran of the U.S. Air Force and is now the Founder and President of CLEAResources, LLC. She is passionate about helping organizations do the right thing for their shareholders, employees, clients, customers, and communities. This includes assisting them in mitigating business risks associated with ethics and compliance failures.
These are just a few examples of the many female veteran entrepreneurs making a difference in the business world. These women have faced unique challenges but have persevered to achieve success.
Military Skills That Transfer to Entrepreneurship
As a female veteran, you have many skills and experiences that can help you in entrepreneurship. Here are a few critical skills that can be especially helpful:
Leadership Skills
In the military, you have likely held leadership positions and been in charge of a team. You will need to be able to motivate and inspire your employees to achieve success. These skills will be beneficial as you start your own business.
Technical Skills
The military is a highly technical profession, and you likely have experience with complex equipment and systems. This technical expertise can be precious in many businesses, such as engineering or IT consulting.
Soft Skills
In addition to leadership and technical skills, the military fosters "soft" skills like teamwork, communication, and problem-solving. These are essential for any business owner and can give you an edge over the competition.
Business Opportunities
Numerous businesses are particularly well suited for female veterans. Here are some ideas to start with:
Industries popular among veteran-owned businesses:
Internet technologies — You can run many businesses entirely online, such as web design, SEO consulting, and social media marketing. They are often less expensive to start than brick-and-mortar businesses and offer more flexibility in terms of hours and location. And as a veteran, you're likely to be comfortable with technology due to your military experience.
Automotive — The automotive industry offers several opportunities for veterans, from sales to mechanics. If you have vehicle experience, you may want to consider starting your own business in this field.
Engineering — Veterans with engineering experience can use their skills in business, from construction to environmental consulting. There are many opportunities for those with engineering backgrounds.
Security — Being in the military, you may have experience with safety and qualifications for starting a business in this area. You could create a consulting business or even open your own security firm.
Logistics — The military is all about logistics; you may have experience with supply chain management, transportation, or warehousing. If so, you could start your own business in this field. There are many opportunities for veterans with logistics experience.
Healthcare — Healthcare is a rapidly growing industry with opportunities for veterans, making it a good fit, especially for those with a medical background during their military service.
Franchises for Veterans
Franchises are an excellent option for veterans because they allow them to be their own boss while still having access to support and resources. Here is a list of key points to be mindful of when researching how to start your franchise as a veteran.
Training
Training programs specifically for female veteran entrepreneurs can help with specific challenges that you may face. These programs provide valuable resources and support as you start your business.
Many organizations offer training specifically for female veterans, such as:
VETS Group — The VETS Group is a non-profit organization that provides training and support for veteran entrepreneurs.
The Rosie Network — The Rosie Network is a national network of business incubators and accelerators that help veteran women-owned businesses grow and succeed.
Veteran Women Igniting the Spirit of Entrepreneurship — VWISE is a non-profit organization that provides resources and support to veteran women entrepreneurs.
Funding
Several organizations provide financing specifically for veteran-owned businesses. These organizations provide the capital necessary to start and grow a successful business. Here are a few:
Veterans Business Fund — A non-profit organization that launched in response to the high unemployment rate of the retired military. It provides financing and support for veterans working on starting a business.
The Jonas Project — The Jonas Project is a non-profit that provides financing and mentorship to entrepreneur veterans.
LiftFund – LiftFund is a non-profit organization that provides financing to veterans looking to carve their paths. By distributing over $400 million in funding, LiftFund strives to help vets live their dream.
Networking Within Organizations
Being a part of a community is crucial for any business owner, but it can be especially beneficial for veteran female entrepreneurs.
These organizations provide support and networking opportunities:
Women's Veterans Network — This national organization provides a social network for women veterans to connect and create relationships to offer encouragement and advice.
Women Veterans ROCK! — This national affiliate network helps military women and their families by providing community resources, support, and education.
Women Veterans Alliance — This community exists both online and offline. It includes groups of local women veterans as well as events and conferences that take place all over the world.
Business Organizations
Business organizations and associations can provide support at all stages of business ownership. These groups offer advice, resources, networking opportunities, and much more.
Here are a few business organizations that focus on supporting veteran entrepreneurs:
Resources From the VA and SBA
The Veterans Administration and the Small Business Administration offer a variety of resources for veteran business owners. These include:
Procurement Technical Assistance Centers (PTAC) — This organization helps businesses succeed in public sector marketplaces. The U.S. Department of Defense funds this organization to provide free advice to companies on selling to local, state, and federal governments.