Ziebart Opens In Thailand
Please click here for more information on Ziebart: Automotive Appearance & Protection
Global Leader In Automotive Aftermarket Grants Master License to Kratos Autowork Co., Ltd, in Bangkok.
TROY, Mich., Sept. 16, 2016 /PRNewswire/ -- Automotive franchisor, Ziebart International Corporation, is excited to announce the opening of the first master licensed location in Bangkok, Thailand. The location is an 8,000 square ft. stand-alone building and offers appearance protection, detailing, films and rust protection services.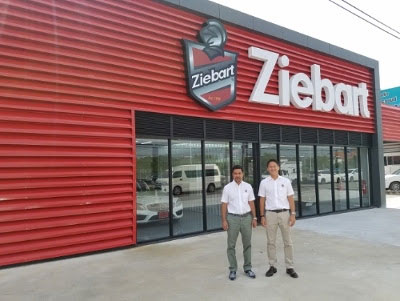 Ziebart chose Thailand for its Southeast Asia expansion because of the growing automotive industry and the opportunities in the market. "We think it's a perfect opportunity with a huge potential for growth," Thomas E. Wolfe, President/CEO of Ziebart International Corporation said. A second location will be opening later this year, near Pattaya, with others are planned for early 2017. Thailand is the second-largest economy in Southeast Asia, after Indonesia.
The Kratos Autowork Co., Ltd, was impressed by the Ziebart operations currently thriving in Korea, which subsequently influenced them to sign on as a master Ziebart franchisee. The Kratos Autowork Co., Ltd, plans to develop a national chain of car care centers in Thailand.
Ziebart International Corporation is headquartered in Troy, MI, representing a global franchise network of vehicle protection and appearance services for over 57 years. The company was founded on rust protection in 1959 and operates approximately 400 licensed locations with 800 processing centers in 33 countries. Ziebart is the world's leading name in automotive services that renew, protect, preserve, and enhance the appearance of cars and trucks. Ziebart offers a full line of appearance and protection services for both the interior and exterior of vehicles, including professional detailing, window tint, Z-Shield® paint protection film, vehicle wraps and graphics, genuine Ziebart rust protection and undercoating, Rhino-Linings® sprayed-on bed liners, and much more.
Add Franchises To Basket
For Free Information
Please Confirm
Are you sure you wish to REMOVE from your request basket?
We're Sorry
We only allow businesses per information request. Please complete your current requests to continue.
Oops!
Wow, glad you're interested in so many businesses! The you've inquired to will contact you shortly.