Minuteman Press Awarded Top Printing Franchise Rankings from Entrepreneur and Franchise Business Review
Please click here for more information on Minuteman Press International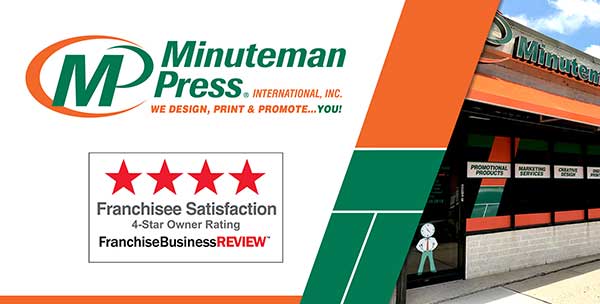 Minuteman Press International Also Listed in the Franchise Times 200 and 1851 Magazine Top 10 Retail Franchises to Watch in 2020
FARMINGDALE, N.Y. – Minuteman Press International, the world's leading design, marketing, and printing franchise, has kicked off its 45th year of franchising by earning top rankings across several prominent lists from respected outlets.
Entrepreneur has ranked Minuteman Press as the #1 printing franchise in 2020 for the 29th time and 17th year in a row.

Based directly on franchisee feedback, independent franchisee satisfaction firm Franchise Business Review has awarded Minuteman Press as one of the Top Franchises of 2020.

Minuteman Press is listed in the Franchise Times 200, which according to their methodology is "an annual ranking of the 500 largest franchise systems in the United States by global systemwide sales, based on the previous year's performance."

1851 Magazine has named the Minuteman Press franchise as one of the Top 10 Retail Franchises to Watch in 2020.
In 2020, Minuteman Press is celebrating 45 years of franchising. The Company was founded in 1973 by Roy and Bob Titus, and began franchising in 1975. Today, Minuteman Press has grown to nearly 1,000 franchises in five countries. Nick Titus, 34, was named the third generation President of Minuteman Press International in January 2020.
"As we celebrate 45 years of franchising, we are truly proud of these positive Minuteman Press franchise reviews and rankings we have earned through the hard work and dedication of our owners as well as our corporate staff and regional support teams," says Nick Titus. "We all work together towards the common goal of helping other businesses grow through effective marketing strategies including our full suite of design, printing, promotional products, large format printing, and mailing services."
Nick elaborates further, "The growth strategies which we have developed and implemented for over four decades have continued to enable us to excel and achieve our status as the #1 rated print and marketing franchise in our industry. Rather than rely on radical changes, we continue to grow in two ways, through the growth of our locations and the growth of our franchise as a whole."
"For our locations, we continue to add more products and services and we have been doing this for a long time. Today, a Minuteman Press center anywhere we operate can provide just about any type of printed paper product, large format banners, posters and signage, custom branded apparel, promotional products, marketing and mailing services. Really anything you can put a name image or logo on, we can produce."
"From the franchisor side, we will continue to grow our partnerships with our vendors and suppliers for better mass purchasing agreements and continued education for our franchise owners. The strength of any good franchise lies in its owners. Our company is only as good as our franchisees and we take a lot of pride in working with and supporting them. The more successful they are, the more successful the whole company is."
On the strength of Minuteman Press moving forward, Nick says, "Fortunately, we have a very strong and well-established company. The average tenure of the employees at our world headquarters is almost 20 years so I am surrounded by some outstanding and very knowledgeable people. We have embraced digital printing technology, continued research and development, and are constantly upgrading our proprietary FLEX software that helps our owners manage all aspects their business from pricing and customer management to workflow and marketing."
About Minuteman Press International
Minuteman Press International is the number one rated business marketing and printing franchise that offers world class training and unparalleled ongoing local support. At Minuteman Press, We Are The Modern Printing Industry™ providing high quality products and services that meet the needs of today's business professionals and go way beyond ink on paper. Today, our centers offer innovative branding solutions and produce custom designs, promotional products, branded apparel, direct mail marketing, large format printing (banners and posters), signs and graphics, and much more. Prior experience is not necessary to own and operate a successful Minuteman Press franchise.
Add Franchises To Basket
For Free Information
Please Confirm
Are you sure you wish to REMOVE from your request basket?
We're Sorry
We only allow businesses per information request. Please complete your current requests to continue.
Oops!
Wow, glad you're interested in so many businesses! The you've inquired to will contact you shortly.