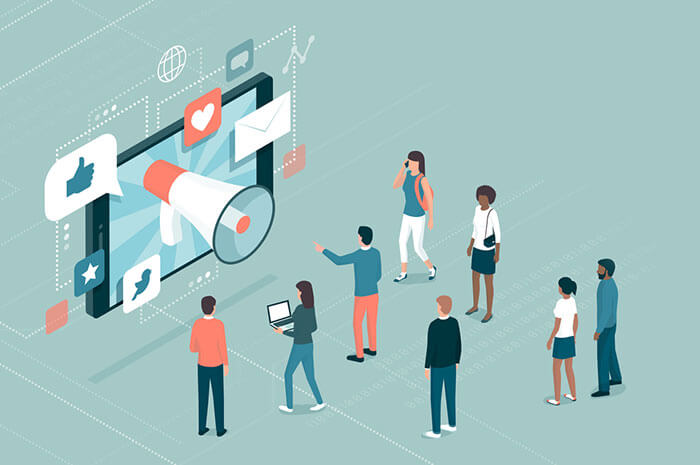 Online marketing is the way of the world these days. With more and more users spending time online, it's one of the fastest, most reliable ways to reach your audience. From spanning social media, to digital ads, to everything in-between, marketing online can help you find some serious traction with your franchise.
It's also a way to capture your audience and ensure you're being seen by potential consumers. Failing to market yourself digitally can mean missing a huge chunk of the puzzle. Avoid missing out on this key marketing space for your franchise location. And, better yet, don't let it be overtaken by the competition. Mark yourself for business growth and set yourself up for success – even in early stages – by capitalizing on the online marketing market.
Types of Online Marketing for Franchise Locations
Looking from the outside, it can seem as though there are endless possibilities for marketing your franchise online. And if you dig too far into the rabbit hole, that may be the case. More and more platforms are offering digital marketing opportunities – from ad space, to voiceovers, etc. But don't get bogged down in the sheer number of franchise marketing options. Instead, look at what's available and see what makes the most sense for your brand. There's no need to spend marketing dollars on methods that won't have a good ROI or just don't make sense for your brand. In fact, that's a waste of important time and money.
Focus on what online marketing methods make the most sense for your brand in order to get the most out of your budget and to increase your customer base.
Platforms Like:

Social media marketing: Facebook, Instagram, Pinterest, LinkedIn – all of these platforms offer ways in which you can market your business. There are boosted posts, sponsored ads, and even campaigns where you can target a specific audience. Even if you don't want to spend additional funds you can create a Facebook page in which you can reach customers. Invite them to like or follow, then post regularly in a way that encourages engagement.
The latter only takes your time and offers a smart way to reach your consumers. After all, they're spending time on social media already, so why not reach them where they're at?
Digital ads: Another place your customer base is hanging out – search engines. Mega platforms like Google and Bing are where people search for any number of topics. You can use targeted posts that show up for folks searching for your franchise industry or for a business in their area. Or you can have blanket ads that show up, unprompted. Either way, the ads are going to exist, so why not put yourself in front of users' phones? This can be a great way to introduce a deal or share your logo for brand recognition. And when they're actually looking for your service, there you are to swoop in and offer exactly what they need.
Website marketing: Next, if your franchise hosts a local website page, this is another way you can reach customers. Create content that talks about your services or deals, tell users how to best utilize your services, and more. This will educate your market base, and give them a better chance of finding you online. This is a great way to capitalize on a website offered by your franchising company. However, you can also branch out and start one of your own. The more you offer, the better visibility you will have online.
Ads with sound: We know what you're thinking – sound ads are for radio, and to some extent, that's true. But more and more folks stream music or podcasts, even online radio from their phones. (Or from their cars where the sound is found via the Internet.) That means you can capitalize on this time by buying ad space for your franchise location. Drop in a commercial, or if they offer visual ads, you can also drop a graphic that links to your store.
Get crazy and do both for the best of both worlds. Whatever you decide, this is one more way in which you can reach your customer base through their daily habits.
Cashing in on Digital Ads for Your Franchise
When advertising your franchise business, look to these relevant digital platforms to help spread the word about your location. They allow you to easily reach customers when and where they're already spending time. AKA low-hanging fruit, yet smart and relevant business – all yours for the taking.
Take a look at what platform makes the most sense for you and your industry and then allow available markets to grow your ROI online.